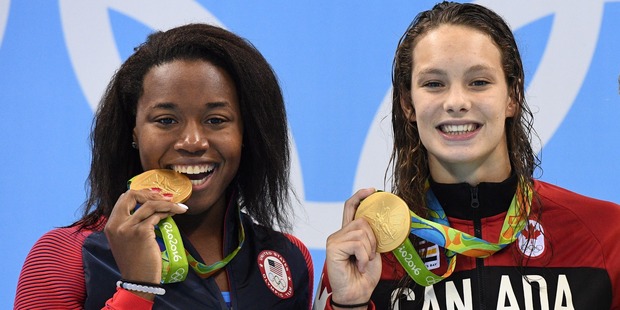 Canadian teenager Penny Oleksiak and American Simone Manuel dead-heated for the Olympic gold medal in the women's 100m freestyle at Rio.
The pair reached the finish with identical times of 52.70sec, with each earning a gold medal.
Sweden's Sarah Sjostrom, who won the 100m butterfly title, finished third in 53.99 while the race favourite and world record holder, Australia's Cate Campbell, faded to finish sixth after leading the field at the turn.
The last Canadian to win an Olympic gold medal in swimming was Mark Tewksbury, who took out the men's 100m at Barcelona in 1992.
Just 16, Oleksiak has surfaced as one of the sport's big stars in Rio, capturing four medals, while 20-year-old Manuel earned her second medal in Brazil after collecting silver in the 4x100m free relay.
Manuel has also made history, become the first African-American woman to win a gold medal in swimming.
The last dead-heat for gold in swimming at the Olympics was in Sydney in 2000 when American training partners Gary Hall Jr and Anthony Ervin tied first in the 50m freestyle.
- AFP