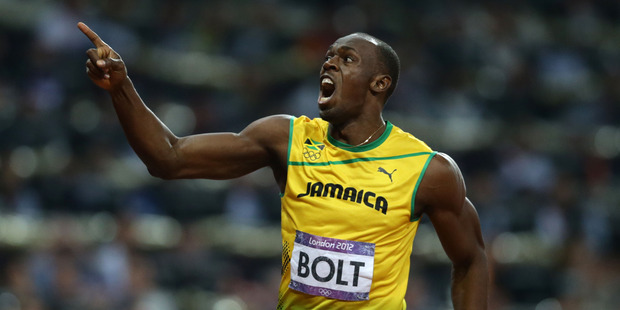 The "Usain Bolt Variety Hour" hit Brazil, big time, yesterday.
The closing number said it all: After talking about life, sprinting and the Olympics - and yes, Bolt insisted the Rio de Janeiro Games will be his last - the Jamaican pulled out his cell phone and started taking selfies while he shimmied off stage, surrounded by more than a dozen Samba dancers.
The evening with Bolt also included his now-immortalised "To The World" pose, a few serious questions about racing and doping, along with one reporter who said he had no question, but pronounced: "I really love you, man," then poetry slammed the following: "I hope you win. I hope it's your day. I hope you will go even though you get hit by a Segway."
The now-famous Segway incident occurred after Bolt's victory in the 200m last year at the world championships. While taking a victory lap, a multitasking photographer slammed into the back of Bolt's legs with his scooter. Bolt bounced up and was no worse for wear.
In the lead-up to the Rio Olympics, his legs haven't fared as well. He pulled out of his national championships last month with a sore hamstring, which he has been trying to rehabilitate in time to put on a show in Brazil.
Bolt takes to the track on Sunday for the early rounds of the 100m. If he wins the 100m, 200m and 4x100 relay, the way he has at the last two Olympics, he'll close his Olympic career with nine gold medals.
By now, though, it's as much about the show as the results, and Bolt said as much yesterday.
"I'm definitely a sprinter first, but I like to entertain," he said. "That's what people come out to see. They like it when I do crazy stuff. I try to entertain and make it different, help people enjoy it."
And going after dreams is the main message he wants people to take away from his career. "It's always to work towards your goal," he said.
But as much as sending messages, Bolt pretty much laughed his way through 30 minutes of dance, drama and jokes.
- AP