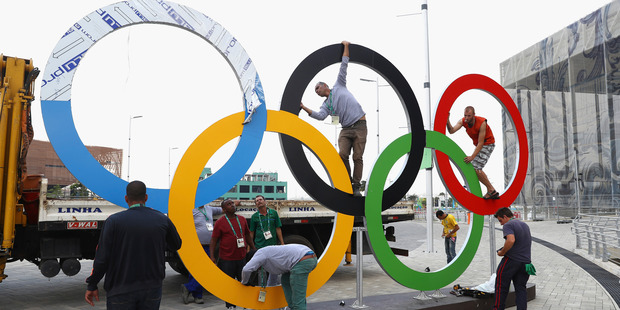 The build up to Rio has been immense.
Stories of unfinished accommodation, virus-filled water, security issues, and Zika, are all just a few reasons why every athlete and fan alike has been holding their breath.
But if there was ever a sense that would all disappear the day people started arriving and the business really began, well, unfortunately it's the complete opposite.
Journalists and athletes have been streaming in, in their thousands, and social media has provided a platform to upload some hilarious, scary, and concerning stories.
From missing mattresses and shower heads, to daylight robbery and credit card fraud, this Olympics certainly promises to be a memorable one.
My Welcome to Rio moment: Mere minutes after using my credit card in the IOC convenience store in the Main Press Center, it was hacked.

— Luke DeCock (@LukeDeCock) August 2, 2016
When I heard there was a pool at the media accom #Rio2016 I didn't realise it was in our apartment @NewshubNZ pic.twitter.com/f5PgbzIqul

— Jeff McTainsh (@Jeff_McTainsh) August 1, 2016
#IOCLuxuryLodging. Putting together a shower curtain so we can shower and not flood the place. pic.twitter.com/omaBJ7Dlje

— Andrew Bogut (@andrewbogut) August 2, 2016
Journalist reveals inside 'unfinished' Rio Olympic media village rooms https://t.co/b4WaTB8txF pic.twitter.com/sDtmnRPzmR

— Daily Mail Online (@MailOnline) August 2, 2016
"I've been in town for 9 hours and I still haven't seen a mosquito...On the other hand, I have seen a machine gun" https://t.co/FUyWd7y2kc

— Luke Kerr-Dineen (@LukeKerrDineen) August 2, 2016
Staying in Rio presents some challenges: https://t.co/JHKFS3EXkk pic.twitter.com/eXQ2MVtRER

— Deadspin (@Deadspin) August 2, 2016
Welcome to #rio2016 ...I knew i forgot something..... byo mattress! #zzzzzz #mediaaccom pic.twitter.com/mOJbNUQIRC

— Abby Wilson (@abbywilsontvnz) July 30, 2016
First attempted shower in room at media village. No hot water and shower head fell off. #RoadToRio pic.twitter.com/bUfxLKh4A6

— Stephen Wade (@StephenWadeAP) August 1, 2016
Some other events include a South Korean road cyclist being hit by a car during practice as well as a Chinese hurdler being robbed in the most disgusting fashion.
The Australian team has also had it rough, being robbed during a fire alarm, and having problems with their electricity and plumbing upon arrival.
With all the added drama, including Russia's doping scandal, this could quickly become the worst Olympics in history.