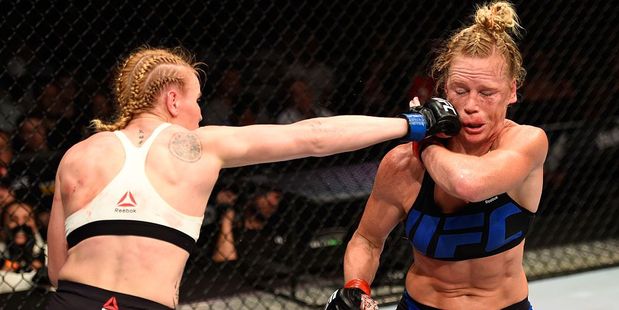 Valentina Shevchenko stunned Holly Holm at UFC Chicago, unanimously outpointing the former UFC champion.
Fighting for the first fight since losing the belt to Miesha Tate at UFC 196, Holm lost on the judges scorecard 49-46.
Her stunning knockout of then-champ Ronda Rousey in Australia at UFC 193 catapulted Holm (10-2) into the spotlight of mixed martial arts, but she followed with the back-to-back losses.
Shevchenko (13-2) put herself in the mix to contend for the women's bantamweight title at 135 pounds that is held by Amanda Nunes, who she lost to in March at UFC 196.
Holm knocked Shevchenko to the mat with a quick hook early in the first round as Shevchenko quickly got back to her feet.
Shevchenko had a takedown late in the round.In the third round, after Shevchenko snuck in a few jabs, Shevchenko caught Holm's leg on a kick attempt and took her down. Shevchenko had another takedown and kept Holm (10-2) on the mat for the rest of the round as she landed punches.
Shevchenko may get another shot at Nunes, who dismantled Tate for the belt at UFC 200.
- AP