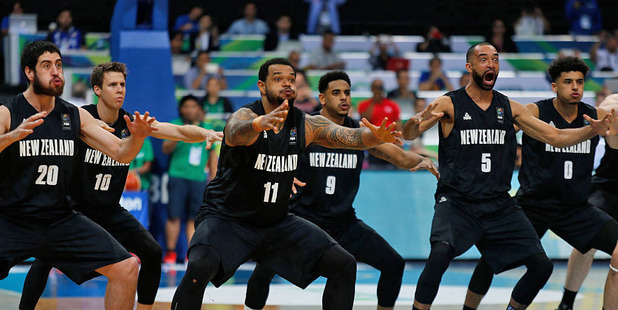 The Tall Blacks have performed like professionals on the floor at the Olympic Qualifiers, but their pre-game treatment has had a distinctly amateur vibe.
Playing in Manila, the Kiwis have had to deal with booing and music playing during the haka, and have also seen the Canadian national anthem played instead of the New Zealand version.
Their first clash on Wednesday morning was against the host Philippines, whose fanatic crowd booed the haka, which was itself overshadowed by build-up music playing throughout it.
Gilas Pilipinas refuse to get intimidated by NZL's trademark Haka dance #FIBAOQT @abscbnsports pic.twitter.com/PT24cdou1g

— Paul Lintag (@paullintag8) July 6, 2016
Disappointed that music was played during haka. If u know NZ sports u know haka deserves more respect. Lack of coordination

— Bob Guerrero (@PassionateFanPH) July 6, 2016
While the music was surely a first, Tall Blacks point guard Tai Webster said the boos weren't a surprise.
"I mean, different people react in different ways to it," he said. "I guess it was just their way of reacting to it, the crowd getting behind the home team and what not."
"It's expected, but you know, it is what it is," he told Filipino media.
Filipino fans watching from home realised the errors of the fans in the arena, and were quick to point out the mistake.
Note to the sadly misinformed PH fans: you do not boo the Haka. #NewZealand #FIBAOQT #fb

— Ryan Fenix (@RyanFenix) July 6, 2016
For your info, it's most likely that Pinoys are the FIRST group of opposing fans to boo a New Zealand team doing the Haka. SHAME ON US.

— Aztec Centeno (@aztec_again) July 7, 2016
The fans did show appreciation afterwards at the completion of the haka, and the event organisers did not make the same musical mistake twice, with the haka against France this morning being performed without a hitch.
No background music and no boos this time for New Zealand's Haka #FIBAOQT @abscbnsports pic.twitter.com/Iet3EtRwty

— Paul Lintag (@paullintag8) July 7, 2016
However, there were still pre-game issues, with the wrong national anthem being played. Instead of God Defend New Zealand, O Canada reverberated around the stadium.
The drama has not fazed the Tall Blacks however, with a victory over Philippines being followed by a tough fought loss to powerhouses France.
They face Canada in the semifinals on Saturday night, where hopefully the anthems will be played in the correct order.