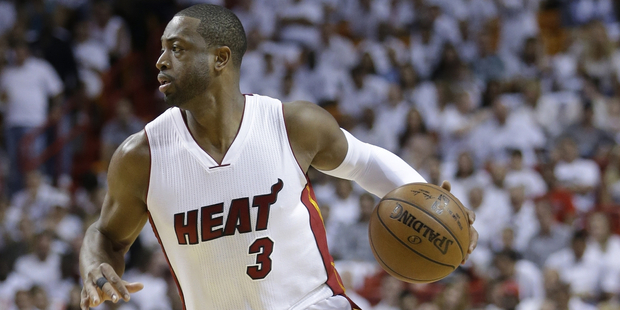 When best buddies LeBron James and Dwyane Wade first joined together in Miami in 2010, they were the villains, the team everyone rooted against.
Now, they may be considered heroes if they team up once again to thwart the super-team in Golden State that added Kevin Durant.
At the moment, it's mostly rumours. Rumours about Cavs owner Dan Gilbert's private plane transporting Wade to Cleveland. Talk about Wade being angry with the Heat's perceived lowball contract offer.
Heat has offered Wade 2 years, $40 million with a player option in second year.

— Dan Le Batard Show (@LeBatardShow) July 4, 2016
And Jason Carr, the son of former Cavaliers player Austin Carr, saying it's a "done deal" that Wade will join Cleveland. (Carr was the first to say the Kevin Love trade was done a few years ago, for what it's worth.)
Jason Carr, son of Austin says that Wade to Cavs is done. Even though it wasn't much of a secret he called the Love deal early @FearTheSword

— J Kemp (@JKemp1997) July 5, 2016
The Huffington Post reported Tuesday morning the Cavs and Wade were in "preliminary talks," but also cautioned that the talks were "still early."
League source: Dwyane Wade in preliminary talks with #Cavs to reunite with Lebron. Talks still early.

— Jordan Schultz (@Schultz_Report) July 5, 2016
The maxed-out Cavs, without getting creative with the cap, only can offer Wade the $3.4 million taxpayer's mid-level exception.
ESPN subsequently reported Wade cancelled free-agent meetings he had set up for this week, including one with the Bucks on Wednesday.
Dwyane Wade has canceled some free agent meetings with teams he'd set up with this week, sources said.

— Brian Windhorst (@WindhorstESPN) July 5, 2016
That's either a sign he's made headway with the Heat - who had a two-year, $40 million offer on the table, with an option for the second year - or an indication something even more interesting is afoot.
The 34-year-old Wade has spent his entire 13-year career with the Heat, winning three NBA titles. He averaged 19.0 points, 4.1 rebounds and 4.6 assists last season in 74 games, the most he had played since 2010-11.
-news.com.au