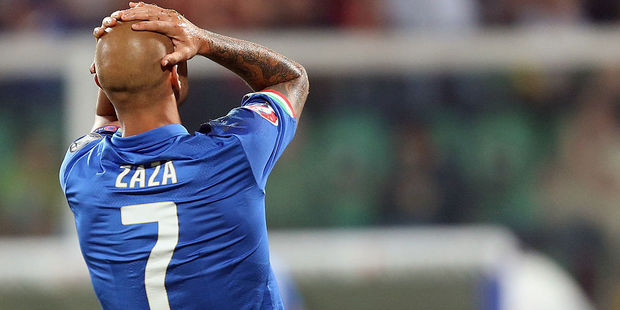 Simone Zaza has made a lasting impact on the Euro 2016 quarterfinals, but not in the way he wanted.
The Italy striker has taken one of the most embarrassing penalties in the history of major tournaments, missing his attempt from the spot in his side's penalty shootout loss to Germany this morning.
The penalty itself wasn't the worst of the misses on show - that prize probably goes to Graziano Pelle - but Zaza's convoluted run-up left him exposed to the cruel mocking from the internet.
Zaza's running man challenge pic.twitter.com/nowidKbahp

— dan [OLFU] (@ManLikeSmalling) July 2, 2016
Zaza run up #GERITA https://t.co/ZP6pi03SYQ

— BIN DIESEL (@minute5072) July 2, 2016
Zaza penalty pic.twitter.com/TJ2oDrcKb2

— Dale (@Dale_MUFC_) July 2, 2016
What Zaza saw running up to his pen... pic.twitter.com/E4vUzHwEDg

— ㅤ (@Y2SHAF) July 2, 2016
Can't stop watching Zaza's PK approach pic.twitter.com/iGNgaZE1aq

— Aaron W. Gordon (@A_W_Gordon) July 2, 2016
To make matters worse, Zaza was brought on in the last minute of the game for the sole task of taking a penalty.
Zaza's heat map pic.twitter.com/7m1E5RPooY

— Footy Humour (@FootyHumour) July 2, 2016
Germany - despite several poor misses of their own - eventually prevailed on penalties to move into the semifinal where they will play either France or Iceland.