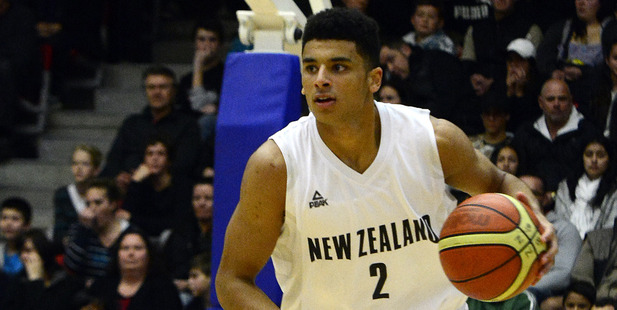 The Tall Blacks opened their campaign at the SJEC 2016 International Basketball Challenge in China with a comfortable 80-65 win over European side Belarus in Suzhou.

Despite the team only being together for less than a week and this being the first competitive game for the Tall Blacks in 2016, there were few signs of rust as the smaller New Zealand team smothered Belarus on defence and in the second half in particular saw their offence hum along nicely.

Combo guard Tai Webster led all scorers with 16 points in a display that belied his young years, the 20 year old Nebraska University player was strong on defence and yet found ways to keep the scoring ticking over, whether running the point or in the shooting guard position.


He enjoyed good support though, with Corey Webster (14), Isaac Fotu (13) and Jordan Ngatai (13) all providing baskets at crucial times to maintain the scoring momentum while the entire roster played dialed in defence throughout to deny Belarus any sniff of a chance in the game.

Head Coach Paul Henare was pleased but not getting carried away with the performance, knowing that much tougher matches await his side on the road to Rio.

"Overall it was a good performance from the guys, the starting group played some pretty good basketball which allowed us to spread the minutes around and get everyone out to play which was great from our preparation point of view.
For the time that each of them were on the floor, we made improvements from Japan and that is what we will continue to try and do throughout the rest of the tournament.

"This has been a little different, we are having to learn on the fly, without the hours and hours of practice time to get things right, it is a combination of Ross and Pero and the great job they are doing on video and catching up with players individually, plus using whatever practice time we have to get on the same page. It is different way of learning for the team but they are finding a way to get things done which is pleasing."

With an 8 point lead at the break, there was still plenty to play for in front of a large and enthusiastic crowd, but that lead more than doubled in the opening two minutes of the second half.

"I looked up and saw only two and a half minutes off the clock and we had stretched the lead out to almost 20 points, it was pleasing to see the starting group start so well and we spoke about it during halftime to put a run on and put the foot on their throats and they did. They were getting after it defensively and pressuring the Belarusians into a few sloppy turnovers, that was pleasing to see."

Henare was pleased with his guard line and the constant pace that they were able to maintain at both ends of the floor.

"Corey did a great job getting us going in the first half and then Tai was solid throughout the game and being able to play him at the one or the two, especially with Shea Ili out there makes us much more dynamic, especially defensively. Jordan had his best output as a Tall Black, probably ever, and we will need him to give us quality minutes as he and Tom are probably the only genuine 3 men we have, so to be able to get that contribution from Jordan was pleasing and timely for him as well."

The game also saw debut appearances for Mike Karena and Ethan Rusbatch, with both getting plenty of minutes in their first appearances in the black singlet as they push for inclusion in the final 12 that will be named at the end of this week to go on to Europe and then to Manila for the Olympic Qualifying tournament. Finn Delany and Derone Raukawa sat out the game but will suit up tomorrow against Japan.

Tall Blacks 80
T Webster 16, C Webster 14, I Fotu 13, J Ngatai 13
Belarus 65