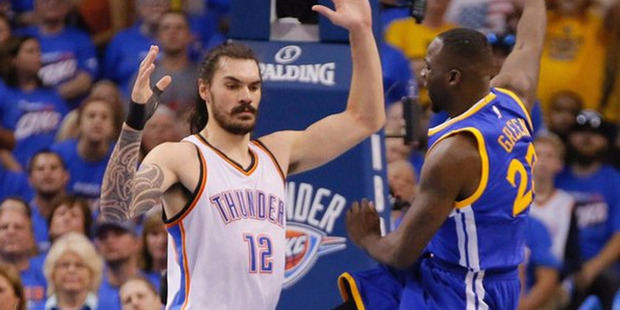 Oklahoma Thunder's Steven Adams got a nasty surprise in the first half of Game three of the Western Conference finals today when he was kicked in the groin by Golden State Warriors' Draymond Green.
LOL Draymond Green straight up karate kicked Steven Adams in the nuts pic.twitter.com/ykBOzHEdey

— gifdsports (@gifdsports) May 23, 2016
After lengthy deliberation the refs looked back at the replay and pinged Green for a flagrant foul, meaning Adams got two free throws and Oklahoma also won possession back.
Green was allowed to stay in the game but will be sent off if he commits another flagrant foul.
Twitter reacted strongly to Green's indiscretion. Here is some of the best reaction:
You can't hurt Steven Adams's nuts. Come on. Those things are made out of iron.

— Bill Simmons (@BillSimmons) May 23, 2016
Draymond Green just messed with New Zealand sport's future athlete breeding programme. That shit is not okay. #NBAPlayoffs

— Scotty Stevenson (@sumostevenson) May 23, 2016
Steven Adams may not be able to have 18 children. That's not cricket, Draymond. #OKCvsGSW

— Sam Worthington (@samworthingtown) May 23, 2016
Agree - he should be king of Jalen's Dark Alley team. https://t.co/xHupg5EVUJ

— Bill Simmons (@BillSimmons) May 23, 2016
Evidence the Golden State Warriors are truly the worst. #gswokc

— Elliott Smith (@elliottnz) May 23, 2016
DRAYMOND GOT ADAMS RIGHT IN THE KIWIS. THAT WAS ON PURPOSE

— UniAvocadoBalasa (@Balastronaut) May 23, 2016
Steven Adams needs this so bad pic.twitter.com/Qv5iF9ckhl

— Josh Kannard (@joshkannard) May 23, 2016
Adams has made a strong start to Game three and Oklahoma held a 10 point lead late in the second quarter.
Steven Adams so far. Blocking, rebounding, scoring. #WCF Game 3 https://t.co/PfEp2IaDdr

— OKC THUNDER (@okcthunder) May 23, 2016