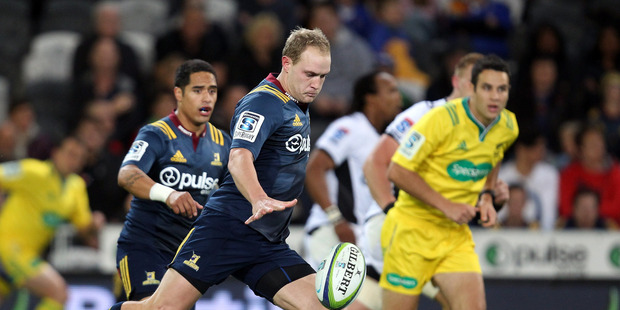 Herald sport's writers Wynne Gray and Chris Rattue name their winners and losers from the sporting weekend, including the Highlanders, Dan Carter, and Jarryd Hayne.
WINNERS
Super Rugby in Dunedin
Anyone who watched the pulsating Highlanders-Crusaders match in Dunedin. Fantastic...rugby the way it could/should be every week. Stunningly good stuff - the game of the year so far. - CR
Highlanders
Simply the best. Roped the dopes and then delivered five blows to two. Great plans with plenty of courage, variety and skill topped by the speed of Matt Faddes, the unlikely looking centre with the turbo power. - WG
Matt Faddes
He's doing a Leicester. The Highlanders centre had such a wow of a game there's a murmur about him being a shock test prospect.
Faddes is living his "childhood dream" playing for the Highlanders, but did he dream of it going even further? - CR
Jarryd Hayne
Such a superstar that he can quit the NFL and walk straight into the Fijian sevens team. Nice to have those sort of options in life. Good timing too, with Samoa scoring a brilliant fightback win over Fiji in the Paris Sevens. - CR
Tom Walsh
The big man keeps putting in the big performances finishing an eyelash behind Kurt Roberts in China in a field of heavyweight talent. Off the building site into the global spotlight-it's the feel-good factor which Walsh keeps burnishing. - WG
Gabriel Medina
Lit up the Oi Rio Pro with a magnificent reverse flip and a perfect 10 from the judges as he obliterated fellow Brazilian Alex Ribiero. Television allows us to get in close and marvel at the skill of these athletes as they make the awkward seem everyday. - WG
LOSERS
Blues x 2
What a shambles at Ellis Park. They were in disarray after 10 minutes, as they have been for well over 10 years. Pathetic. - CR
Think of all the disparaging descriptions and hang them round the Blues necks. They were awful from the opening move when the Lions scored. Lineouts, defence, handling, concentration-the whole lot was a shambles as the Lions got their smorgasbord victory. - WG
All Black Sevens
Well done to Samoa for winning the Paris tournament, where New Zealand's Olympics-based branding exercise took another ding. Is Gordon Tietjens still a master sevens coach? Hard to tell at times. - CR

Lewis Hamilton-Nico Rosberg
The latest on-road feud between the Mercedes teammates ended in the gravel on the first lap of the Spanish Grand Prix leaving team boss Niki Lauda livid and placing most of the blame on the impatient Hamilton for his aggression rather than Rosberg's late move to defend his line. - WG
Stand-in captain Brendan McCullum and his Gujarat Lions
Lost by 144 runs in a 20 -over IPL slogathon as AB de Villiers and Virat Kohli both hit tons as they plundered a 229 partnership - WG
Dan Carter
Just kidding - he's not really a loser. Carter has had a great season by all accounts, turning France's Racing 92 into a force. But the Europe showdown against Saracens did not go well. The scoring in Europe's club showpiece was limited to 10 penalties which should be an embarrassment for northern hemisphere rugby, although they won't see it that way. - CR