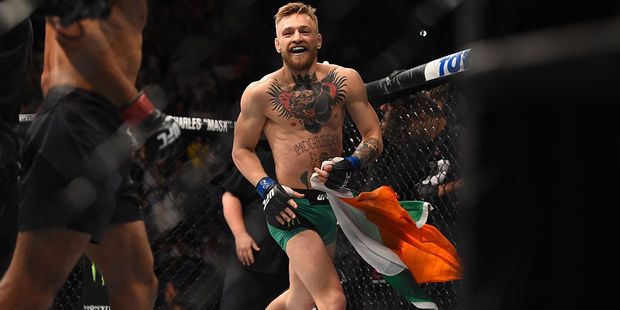 Conor McGregor has no problem touting his standing in the UFC's hierarchy, even if that means taking not so subtle shots at former heavyweight champion Brock Lesnar or current UFC 200 headliner Jon Jones - plus Floyd Mayweather and Nate Diaz.
McGregor took to Twitter where he first explained how he would dole out a dominant performance against Diaz when they finally rematch before answering fan questions about his drawing power at the box office.
McGregor has pulled in some of the most massive pay-per-view numbers in UFC history over his last few fights and he had no problem telling the world about it during a fan Q&A.
When the question came up about his drawing power versus Lesnar, McGregor claims he smashed the former champion's previous records in regards to overall pay-per-view sales, gate and everything in between.
@TheNotoriousMMA you think it's safe to say you've overtaken Brock as the single biggest draw in MMA history?

— Jord (@JordanHickling) May 2, 2016
It is not safe to say. It is fact to say.
I hold PPV, Gate, TV, Fightpass and Embedded record.
Even Title fight KO. https://t.co/nqwoQSap9A

— Conor McGregor (@TheNotoriousMMA) May 2, 2016
In McGregor's next tweet he outlined his claim of how UFC 196 smashed the previous record for pay-per-views for the company by surpassing UFC 100, which was headlined by Lesnar along with Georges St-Pierre in the co-main event.
McGregor also took a veiled shot at Jones, who headlined UFC 197 just a few weeks ago.
@TheNotoriousMMA UFC 100 holds the PPV record.

— Michael League (@lightfeet007) May 2, 2016
Incorrect. I beat it by 400,000 buys.
Which alone was 100,000 more buys than UFC 197 made IN TOTAL. #KillShot https://t.co/HzidAJQ3Iu

— Conor McGregor (@TheNotoriousMMA) May 2, 2016
McGregor claimed his last pay-per-view beat the biggest UFC card of all time by 400,000 buys - which goes wildly against conventional wisdom and, given his recent history of falsely tweeting about his retirement and return to UFC 200, may need to be taken with a grain of salt.
By conventional wisdom, UFC 100 did 1.6 million PPV buys against UFC 197's 1.5 million. For McGregor's claim to be true, the long-accepted number for UFC 100 must be hugely inflated, or UFC 196's buy rate was grossly underrated.
McGregor also stuck in the fact that's still higher than what UFC 197 drew with Jones in the main event against Ovince Saint Preux. McGregor never called Jones by name, but considering the interim light heavyweight champion is facing Daniel Cormier in the new main event at UFC 200, it's no surprise he went for the jugular.
McGregor got downright nasty when asked about his expectations for the new UFC 200 card, claiming Jones v Cormier II won't get close to 1.5 million PPV buys - while also making the wild claim that the card could have toppled Floyd Mayweather v Manny Pacquiao (credited at 4.4 million buys) had he remained as the main event.
@TheNotoriousMMA you think ufc200 will sell anything close to 1.5mill?

— Lez Bernardi (@LezBernardi) May 2, 2016
I do not. I had the May/Pac record primed, ready to place MMA at the undisputed top. But it was not to be. #Press https://t.co/rmCxw6DX7y

— Conor McGregor (@TheNotoriousMMA) May 2, 2016
McGregor was supposed to fight in the headline bout at UFC 200 until he was yanked off the card for refusing to travel to the United States to promote the upcoming card. He certainly knows how to demand a crowd and he's going to continue to draw attention until the UFC finally books him for his next fight.
According to Dana White, that next fight will be a featherweight title defence against the winner of UFC 200's interim featherweight championship bout between Jose Aldo and Frankie Edgar. Yet McGregor made clear in other tweets that he was still wholly focused on Diaz.
Look at the size of Nate Diaz. McGregor needs to go back to 145. pic.twitter.com/M6aTV1nPPy

— FrontRowBrian (@FrontRowBrian) May 2, 2016
I love it! Adapt and overcome.
I am coming in light and lean for my rematch and I will school this boy to the bell. https://t.co/MjEwxokIYK

— Conor McGregor (@TheNotoriousMMA) May 2, 2016
@TheNotoriousMMA @FrontRowBrian like last time?

— Nathan (@WAFCNathan) May 2, 2016
No. Last time I was eating four breakfasts and a dessert on the day of weigh in.
You will see.
You will all see. https://t.co/zfhFLEqEcA

— Conor McGregor (@TheNotoriousMMA) May 2, 2016
@TheNotoriousMMA you're nothing special honestly. Good fighter. That's it. On the floor you're disabled lol

— Amir Hali ? ? (@Amir_Hali) May 2, 2016
On the floor he was swept and controlled.
When the tank goes, no amount of skill can save you.
You will see. https://t.co/vJP4k4qzwX

— Conor McGregor (@TheNotoriousMMA) May 2, 2016
@TheNotoriousMMA he's a part time triathlete. Good luck waiting for that cardio to go

— su (@Rude_Su) May 2, 2016
I respect the endurance athlete. A game of will.
But those who simply take part, will always be taken over. https://t.co/bysnazDaAT

— Conor McGregor (@TheNotoriousMMA) May 2, 2016
McGregor finished, of course, with a shot at the UFC over his social media foray, after the enormous stink his non-appearance for promotional work caused.
Call me No press.Most press.

— Conor McGregor (@TheNotoriousMMA) May 2, 2016
TOP 10 ALL-TIME UFC PPV EVENTS (Figures via TAPOLOGY)
1. UFC 100 Lesnar v Mir, co-main event St-Pierre v Alves, 2009: 1.6 million buys
2. UFC 196 McGregor v Diaz, co-main Holm v Tate, 2016: 1.5 million
3. UFC 194 Aldo v McGregor, co-main Weidman v Rockhold, 2015: 1.2 million
4. UFC 116 Lesnar v Carwin, co-main Leben v Akiyama, 2010: 1.16 million
=5. UFC 92 Griffin v Evans, co-main Minotauro Nogueira v Mir, 2008: 1.05 million
=5. UFC 121 Lesnar v Velasquez, co-main Shields v Kampmann, 2010: 1.05 million
=5. UFC 114 Jackson v Evans, co-main Bisping v Miller, 2010: 1.05 million
=5. UFC 66 Liddell v Ortiz, co-main Jardine v Griffin, 2006: 1.05 million
9. UFC 168 Weidman v Silva II, co-main Rousey v Tate II, 2013: 1.025 million
10. UFC 91 Couture v Lesnar, co-main Florian v Stevenson, 2008: 1.01 million
- news.com.au