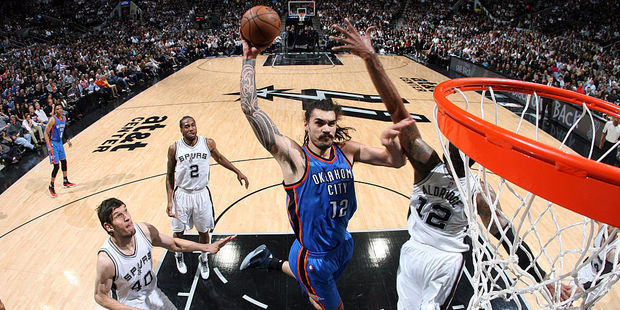 Kiwi Steven Adams played a major role in the most talked about play of this year's NBA playoffs.
The NBA has admitted that there was five missed calls in the game-ending play in the Oklahoma City Thunder's game two win over the San Antonio Spurs yesterday.
The Spurs had a chance to steal victory in a frantic final 13 seconds of play. The Thunder held onto a 98-97 win.
The final play was full of controversy and has since been well documented.
5 Incorrect No Calls on final sequence of Thunder-Spurs https://t.co/Cwq9B83siJ

— J.A. Adande (@jadande) May 3, 2016
To begin the play, Thunder guard Dion Waiters appears to elbow San Antonio Spurs guard Manu Ginobili before jumping up to throw the inbound pass. Waiters and Ginobili broke several rules here. Apart from Waiters' foul, he also illegally jumped on the inbound pass, while Ginobili frequently stepped out of play which is not allowed.
The end of game inbound foul in #OKCvsSAS was one we've never seen before & we missed it. We'll incorporate this in training moving forward.

— NBA Referees (@OfficialNBARefs) May 3, 2016
Waiters' errant pass ended up stolen by the Spurs, and the Thunder had only Steven Adams back to defend a potential go-ahead basket. When the Spurs took their shot, Adams was held back by a fan in the crowd, which went uncalled.
Adams' teammate Serge Ibaka was seen holding back the Spurs' LaMarcus Aldridge, which also went uncalled.
Aldridge said Ibaka pulled his jersey at the end... guess there is some proof... #Spurs #Thunder pic.twitter.com/D5nx0JikaG

— Jabari Young (@JabariJYoung) May 3, 2016
Watch the entire wild sequence below:
best 25 seconds of the playoffs so far. RT @NBAonTNT

What a sequence of events... #NBAPlayoffs https://t.co/CPi0vFjr5L

— scott jarnagin (@jarny) May 3, 2016
The Thunder will now play games three and four of the best-of-seven series at home, with game three set to take place on Thursday (NZ time).
Almost missed in all the controversy was a solid game by Adams, playing a crucial role in his team's bounce-back victory.
The centre recorded yet another playoff double-double, pulling down 17 rebounds and scoring 12 points, converting five of his six shot attempts.
He outperformed his opposite, NBA legend Tim Duncan who finished with just two points.