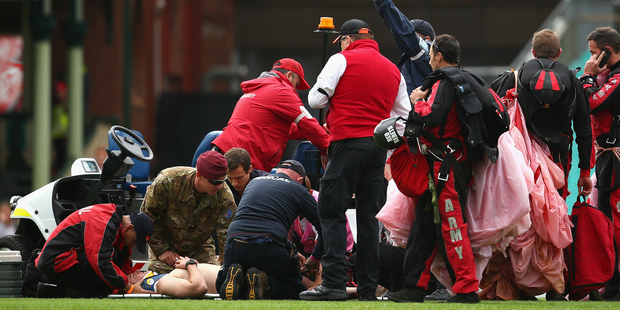 An Army parachute display gone wrong has delayed an AFL match between the Sydney Swans and the West Coast Eagles at the Sydney Cricket Ground.
The parachutist was part of a special pre-game Anzac Day commemoration, with an estimated half a dozen Australian Army 'Red Beret' paratroopers descending on the ground.
All landed safely bar the paratrooper set to deliver the game ball, who went spiraling towards the ground, landing heavily.
#AFLSwansEagles #AnzacDay parachute mishap hope he is ok. pic.twitter.com/rQKCrnddZv

— Benny Sab? Care (@macme77) April 23, 2016
The parachutist received 15 minutes of medical attention before being taken from the field on a medicab.
Parachutist has been lifted on to the stretcher and now onto the medi-cab. Ambulance waiting in the race. Let's hope everything is alright.

— Sydney Swans (@sydneyswans) April 23, 2016
It was later reported that the parachutist suffered a suspected broken pelvis as a result of the incident.
#AFLSwansEagles Good news Navy Red Beret parachutist with nasty landing suffered a suspected broken pelvis is expected to make full recovery

— NMGSports (@NMGSports) April 23, 2016
The accident pushed the game's starting time back by ten minutes.