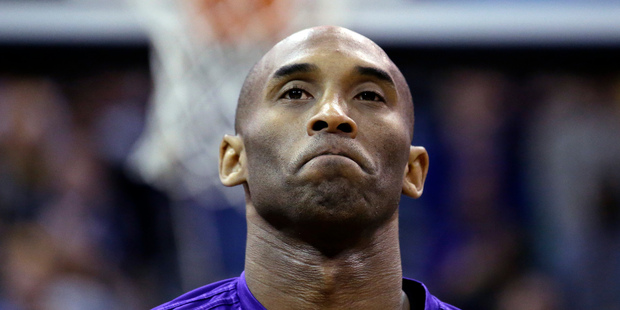 Los Angeles Lakers legend Kobe Bryant will end his glittering NBA career on Thursday at the Staples Centre and the asking price for tickets to the game and merchandise are astronomical.
For starters, ticket prices are predictably insane, with third level seats going for over $1175, and the high-end tickets for multiple seats together on StubHub going for over $44,000 a pop, via Yardbarker.
Then there's the merchandise, including a custom 18-karat-gold-lined hat from AEG (which runs Staples Center) that is going for over $55,000 dollars. For real.
AEG announces exclusive line of Kobe merchandise, including a black lambs-leather cap with an 18-karat gold "24" retailing for $38,024.

— Mike Bresnahan (@Mike_Bresnahan) April 7, 2016
Here are some prices for seats in the lower bowl (these are several rows behind "courtside" seats):
Kobe's last game. Seats in the lower bowl.?? pic.twitter.com/zFzT2vJSCu

— Beto Duran (@DuranSports) April 7, 2016
And the nosebleed prices... ridiculous.
So you want to see Kobe's last NBA game? 300 level. pic.twitter.com/1domlbN66t

— Beto Duran (@DuranSports) April 7, 2016
Incredible, especially when you factor in that the Lakers have set a franchise record with 62 losses, and the Jazz are just a .500 team (39-39) themselves. Imagine what these ticket prices could be if the Lakers were even halfway decent and/or their opponent was one of the top teams in the NBA?
However, we are talking about one of the greatest basketball players of all-time playing his final game, and he's played every single one of them - over 20 seasons - with the Lakers (and won five titles with them). If you're a diehard Kobe or Lakers fan, the memories may top the ticket price. But, you'd better be doing pretty well financially.