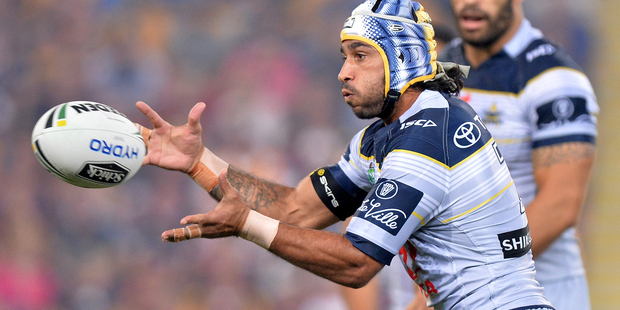 If only the Broncos played the Cowboys every week.
In their first meeting since the heart-stopping 2015 grand final, Brisbane played host to North Queensland in what promised to be a match of epic proportions. And it certainly delivered.
Described as "one of the great games of rugby league", the match-up once again went to golden point, with Johnathan Thurston providing one of the highlights of the match when a cross-field kick nearly turned into his own match-winning try.
However Good Friday was not to be Thurston's day, with the try disallowed after a knock-on was ruled by the referee and video match official.
The hero of this year's derby came in the form of 21-year-old Broncos five-eighth Anthony Milford.
With the scores locked up at 20-all and just a minute of time left in the golden point block, Milford slotted a drop goal from 40 metres out to give his side victory.
"Anthony Milford from 40 metres out has landed the drop goal. This is truly incredible. This is stupendous," commentator Ray Warren said.
"It's one of the great games of rugby league. Absolutely sensational, the players are out on their feet," Peter Sterling added.
The outcome of the match would have played out much more reminiscent of last year's final had Thurston been awarded a try in the 83rd minute.
With nothing on in attack, Thurston kicked from midfield towards the right-hand touchline. The ball looked set to run into touch, only to be knocked back infield by winger Kyle Feldt, and carried over the line by a diving Cowboys skipper.
The original call of "no try" was made by the referee, however replays showed the ball was knocked backwards by Feldt, and failed to show conclusive evidence of a knock-on by Thurston over the line.
After review, officials stuck with the referee's call and the try was disallowed.
#NRLBroncosCowboys 20-20 82' JT is claiming a TRY. Referee says NO. Thoughts? #9WWOS pic.twitter.com/X5wBvOEcIg

— Wide World of Sports (@wwos) March 25, 2016
Speaking after the match, the 2015 Dally M winner was furious at the officials' inability to provide an explanation as to why no try was awarded.
"Yeah I was just asking for an explanation and, as usual, they couldn't give it to me so, they said it was a knock-on, but I was questioning who it was a knock-on by - Feldt or myself - and he couldn't answer, so I'm not sure what they were saying in the box up there in the commentary," Thurston told Channel Nine.
"We had a chance to win it, that's what the fans came to see, a match like that. I'm proud of the boys, but we just weren't good enough tonight.
"We just need to be better at closing out games. We will wait for an explanation from the refs but it doesn't help us now.
Jonathan Thurston had heated exchange with referee Gerard Sutton moments after Milford field goal #NRLBroncosCowboys pic.twitter.com/laoYwbBNVt

— Corbin Middlemas (@CorbinMiddlemas) March 25, 2016
Thurston was adamant he hadn't lost control of the ball over the line.
"I was very confident I didn't knock it on," he said.
"So I don't know who he's said that knocked it on. If I knocked it on before the line, I was pretty sure I was over the line so it would have been a 20-metre restart. But if he said that Feldt's knocked it on, well, I don't know, he's got no explanation so, standard."
Brisbane had led the match 10-0 midway through the first half, with a 12-6 lead at the break. The Cowboys managed to pull back two tries to take the lead 18-14 with 10 minutes to go, only to succumb to a James Roberts try in the 75th minute to leave them two points behind.
A Thurston penalty kick locked the scores up in the final minute, sending the match into overtime.
The rest, as they say, is history.
- news.com.au