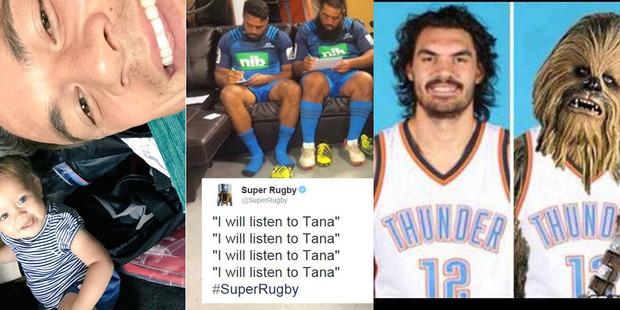 Sonny Bill misses dad time while the Blues get given detention by Tana. All that and more as we take a look at the lighter side of the sporting world.
The Auckland Blues in detention?
The kickoff of the Super Rugby season is less than three weeks away and Blues fans are hoping it's the start of a new era for their troubled side as Tana Umaga takes the reins as head coach.
Tana has made it known that he's prepared to be ruthless as a coach and that he expects a 'no excuses' attitude from his team going into the competition.
In sport some coaches have some unusual ways to get the message across to their players - so could detention be one that Tana has up his sleeve?
This hilarious picture sent out on Twitter depicts just that.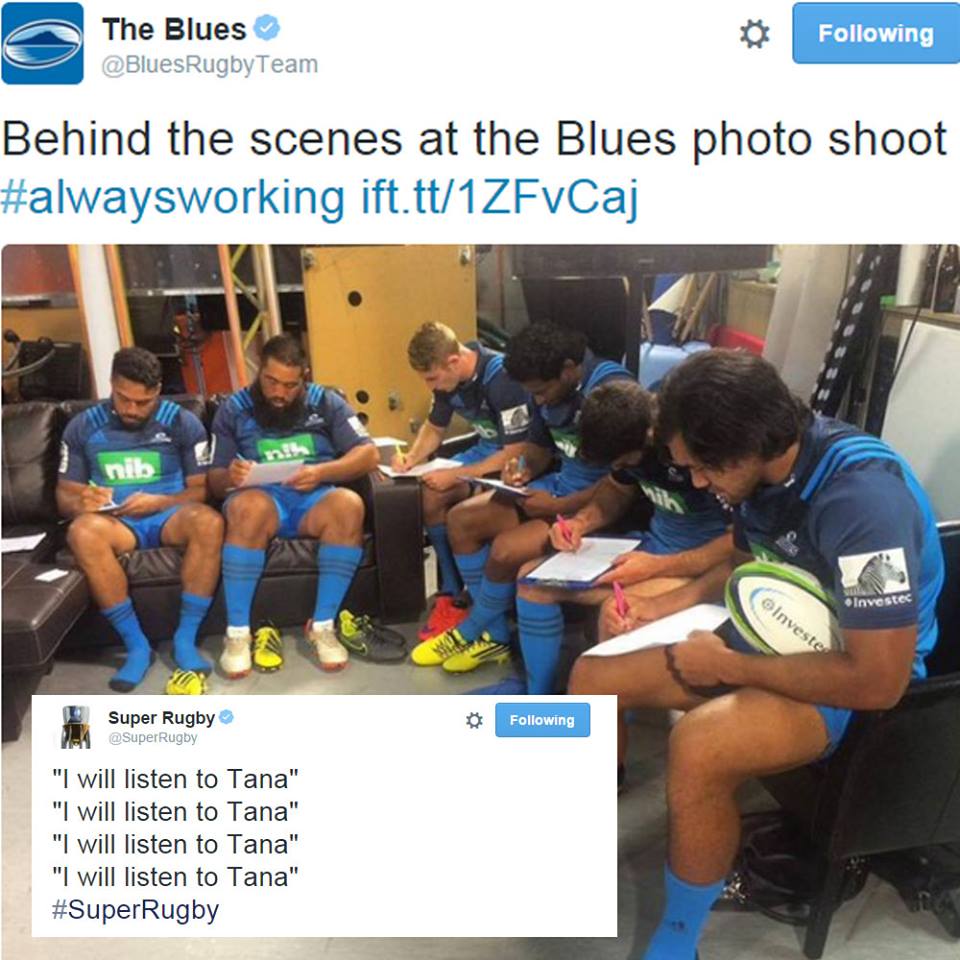 Sonny Bill Williams needs some dad time
Sevens coach Sir Gordon Tietjens is famed for his gruelling training sessions and as Sonny Bill chases Olympic gold for New Zealand that means sacrificing some of the time he gets to spend with his family.
Few days in camp and I'm already looking through old photos missing my two girls, loving this @nz7s environment.. pic.twitter.com/LQIMMsPyq2

— Sonny Bill Williams (@SonnyBWilliams) January 22, 2016
Steven Adams scares players on the court
Earlier last week Steven Adams was named one of the dirtiest players in the NBA, as voted by players and coaches in the league.
A player who chose to remain anonymous claims Adams crosses the line on the court. "He'll throw a sneaky elbow, push you in the back and foul you extra hard."
What might frighten players even more is his fierce death stare...
death stare... pic.twitter.com/QiGcLElFYk

— Cam Carpenter (@caminnz) January 22, 2016
The 7ft Kiwi is also capturing the attention of the internet as his hair becomes wilder and moustache grows longer....
The best moments caught on camera by the stump mic
The stump microphone has helped the game become more accurate - and it has also become a source of entertainment for cricket fans around the world capturing some of the banter from anyone in the vicinity of the microphone.
Note.. this video contains coarse language.
Superstar Messi searches for Iraqi boy
A campaign has been launched to find this boy who touched hearts around the world after being pictured in a Lionel Messi football shirt made from a blue and white plastic bag
The boy is believed to be living in war-torn Dohuk in Iraq where families have fled ISIS
Can you help find this boy, likely from Iraq, who was pictured wearing a #Messi jersey made from a plastic bag? pic.twitter.com/eQ4JSy3kiN

— CCTVNEWS (@cctvnews) January 21, 2016
Aussie league star pranks us all
Did Sam Thaiday just have an extreme makeover?
Nah, it was just Broncos star Corey Parker pranking us all. It's Thaiday's head on Adam Blair's body!
Lleyton Hewitt reduced to tears
Retiring Aussie tennis champ Lleyton Hewitt was reduced to tears after listening to a touching song.
The song, sung by his three children, details how proud they are of him.
Hewitt lost to David Ferrer in the second round of the Australian Open

Kiss cam gone wrong
And finally, this could be the most awkward kiss cam moment ever....