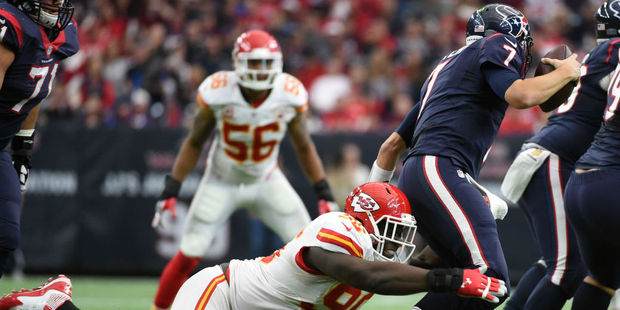 The Kansas City Chiefs shut out the Houston Texans to win their AFC wild card match 30-0 on Saturday and maintain their dream of a first Super Bowl appearance in 45 years.
Alex Smith completed 17 of 22 passes for 190 yards and one touchdown as the Chiefs stretched their unbeaten streak to 11 games in the latest victory of a rollercoaster season which has seen them recover from a 1-5 start.
Houston's challenge unravelled after a nightmare display from quarterback Brian Hoyer, who was intercepted four times while making only 15 of 34 attempts for 136 yards.
The Chiefs will travel to either the top-seeded Denver Broncos or New England Patriots next weekend depending on the outcome of Saturday's other American Football Conference wild card duel between Pittsburgh and Cincinnati.
The Chiefs have not appeared in the Super Bowl since winning the championship in 1970.
The Chiefs got off to a dream start when Knile Davis romped home for a 106-yard kick-off return with the game only seconds old.
Houston's attempts to recover from the early setback were undone by an erratic first half display from Hoyer, who threw three interceptions before the break.
The most costly pick came late in the second quarter, with Hoyer throwing straight to Chiefs linebacker Josh Mauga as the Texans threatened in the red zone.
Only superb defence from Houston kept the home side in the hunt, restricting Kansas City to two long-range field goals from Brazilian-born kicker Cairo Santos to put the visitors 13-0 up at the half.
Kansas City then took advantage of the injury absence of Texans star defensive end J.J. Watt in the third quarter to stretch their lead.
Smith picked out receiver Chris Conley -- who had replaced the injured Jeremy Maclin only moments earlier -- to put the Chiefs 19-0 up, Santos adding the point for 20-0.
Spencer Ware coasted over virtually unopposed from five yards with the opening play of the fourth quarter to help make it 27-0 as the Chiefs piled on the misery for the Houston home crowd.
Santos added a further field goal late in the fourth quarter after yet another Hoyer interception.
- AFP