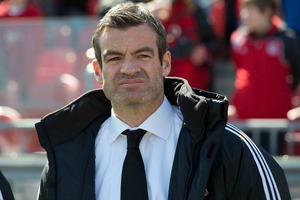 Toronto FC manager and former All Whites captain Ryan Nelsen has been fired after an outburst directed at the club's boss.
Nelsen, in his second season as Toronto manager, was one win away from matching club's best ever high of 10 victories in a season - with 10 games to go in the MLS season.
After finishing ninth out of 10 teams in the MLS Eastern Conference last season, the side are currently fourth and still a chance to make the playoffs with nine wins, nine defeats and six draws.
But following Sunday's 3-0 loss to New England, Nelsen blasted the club's general manager Tim Bezbatchenko, putting the New Zealander's job on the line.
Bezbatchenko responded by firing Nelsen and his entire coaching staff, including fellow former All White Duncan Oughton.
"I think everyone would agree - the coaches, the players - that over the last 12 or so games, it hasn't been good enough, at least for making a run in MLS," Bezbatchenko said before Sunday's encounter against the New England Revolution.
However Nelsen responded to Bezbatchenko's comments through the media after his side were handed a heavy loss.
"I've been in some pretty pressure situation games and this wasn't one but it was made into one," Nelsen said. "To be fair, we've got to be better than that.
"We're used to - as most Toronto teams are - hearing it from the outside, that's why it should never, ever come from inside. Ever.
"I'm not panicking, nobody's panicking. Whatever is being said from anyone at TFC from the coaches and the players, we're more than confident in what we have to do. We have 10 game, five at home, five away, it's in our hands."
According to reports, Bezbatchenko wasn't impressed with Nelsen's comments and fired the 36-year-old. That leaves Nelsen with a 26 percent win-loss record in the MLS over 57 matches.
Nelsen has been replaced by Bezbatchenko's assistant Greg Vanney.
Last year Bezbatchenko said Vanney was a "visionary" when it comes to player development.
Vanney, 40, had a 13-year career in MLS and France's Ligue 1, and was most recently the head coach for the Galaxy's U-14 Academy side and technical director of the Galaxy partner club LA Galaxy South Bay before joining Toronto as the club's assistant general manager and academy director.