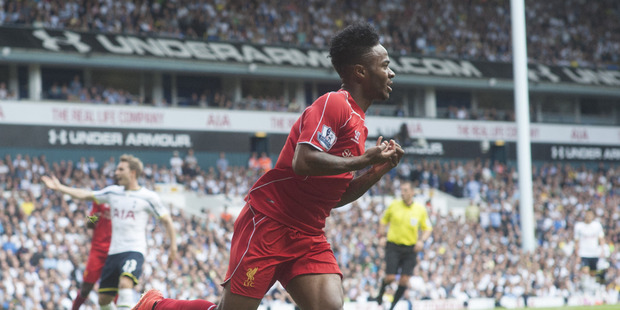 Liverpool had the look of Premier League title challengers again during an electrifying win at Tottenham overnight, while Arsenal's scoring struggles were once more exposed in a draw at Leicester.
Having opened the campaign with a slender win over Crystal Palace and then scrambled a draw at Everton, Arsenal was held 1-1 by a Leicester side playing in the top flight after a decade away.
Liverpool, though, recovered from its setback at Manchester City at the start of the week with a 3-0 win at White Hart Lane which ended Tottenham's perfect start to the season.
Aston Villa beat Hull 2-1 to remain unbeaten after three matches.
Liverpool's speedy attacking unit ensured Balotelli didn't shoulder the goal-scoring burden on his Premier League return, with Raheem Sterling dazzling in the 3-0 victory at Tottenham.
While Balotelli's finishing was wayward, Sterling netted the opener inside eight minutes and was at the heart of Liverpool's impressive display at White Hart Lane. Once captain Steven Gerrard extended Liverpool's lead from the penalty spot at the start of the second half, Tottenham had been subdued, and defender Alberto Moreno was able to open his account.
The dismantling of Tottenham was the perfect response by last season's runners-up to losing at Manchester City in the previous game, reasserting their threat without Luis Suarez.
"We're more pleased with the clean sheet than our attacking play which was superb again," Gerrard said. "We know we're a threat - we've got pace, we've got talented players. The challenge for this team is to defend better, that's what we got criticized for last year."
For Mauricio Pochettino, who had opened his Tottenham reign with a pair of victories in both the Premier League and Europa League, the collapse showed the size of the gulf to close with the leading sides. Tottenham hadn't even conceded a goal in its opening wins over West Ham and Queens Park Rangers, but Hugo Lloris' goal was under siege from the start by Liverpool.
"We are a team still learning and improving," Pochettino said.
Balotelli was signed from AC Milan for 16 million pounds ($US26.5 million) on Monday to fill the void up front after Suarez's departure to Barcelona. But the Italy striker, who left Manchester City in January 2013, was never as menacing during his hour on the pitch at White Hart Lane as Suarez who scored twice in Liverpool's 5-0 win here last season.
Presented with an opening in the 2nd minute, Balotelli's header was parried by Lloris but he couldn't get the follow-up effort on target.
Instead, a trio of English players combined for the opener. Jordan Henderson seized possession on the halfway line and released Daniel Sturridge to launch a counterattack down the right flank before the ball was returned to the midfielder. Henderson then squared to Sterling, who was left unmarked to tap the ball into the net.
It could have been 2-0 when Sterling played in Sturridge though the center but the striker's effort went wide. Another attempt from Sturridge, after being set up by by Balotelli's backheel, was thwarted by Lloris' save. And when Lloris was stranded outside the area, Balotelli tried his luck from distance but completely missed the net.
A Tottenham miss before half time proved costly. A defensive mix-up presented Nacer Chadli with an opening but he stabbed the ball straight at Liverpool goalkeeper Simon Mignolet.
Then, four minutes into the second half, Liverpool was further in front after being awarded a soft penalty after Joe Allen was held back by Eric Dier. Despite Balotelli's presence, Gerrard retained penalty taking duties and sent the spot kick beyond Lloris' reach.
Pochettino waited until the 59th to respond with changes, including winger Andros Townsend replacing Cristian Eriksen. Townsend's first contribution was being dispossessed on the half way line by Moreno. The left back, who joined from Sevilla last month, set away on a charge down the left before dispatching the ball into the net on the hour.
"That's what I asked of the full backs," Liverpool manager Brendan Rodgers said. "You've got to defend first and foremost and then join the attack."
The damage for Tottenham could have been worse had Sterling's finish matched his skill in waltzing past three Tottenham players.
Arsenal was frustrated by newcomer Leicester, dropping points for the second time in three Premier League games.
Alexis Sanchez followed up his first Champions League goal for Arsenal on Thursday with his first domestic strike in the 20th minute in central England.
But Leonardo Ulloa headed in Leicester's equalizer inside two minutes to leave Arsenal with one win and two draws from its opening matches of the domestic campaign.
The game underlined Arsenal's need for striking reinforcements as Yaya Sanogo struggled to make an impact. Sanogo was given the responsibility to lead Arsenal's attack after Olivier Giroud was ruled out until late December with a broken tibia.
"We are open (to signing a striker)," Arsenal manager Arsene Wenger said. "We work on it but let's not fool ourselves the solution every time you don't win is to buy a player."
But it had been a positive opening at Leicester when Alexis pounced for his first league goals. Neat play saw Santi Cazorla loft the ball to Sanogo and, when the striker made a hash of his effort, the ball fell to Sanchez to smash in from six yards.
The lead lasted just two minutes though as Per Mertesacker allowed Jeff Schlupp to run and his cross was headed into the net by Ulloa from 12 yards.
The striker beat Larent Koscielny to the ball with the France defender still feeling the after-effects of an earlier knock and he was immediately replaced by Calum Chambers.
Sanogo struggled against Leicester's backline with the hosts closing ranks to deny Cazorla and Mesut Ozil space.
David Nugent was busy for Leicester and Chambers was almost caught out by the striker in first-half stoppage time but wriggled free before Riyad Mahrez fired at goalkeeper Wojciech Szczesny.
Ulloa continued to threaten after the break and should have fired Leicester ahead. Schlupp's ball dissected Arsenal and when Chambers dived in the striker could only hit the side netting from eight yards (meters).
Arsenal immediately broke and Aaron Ramsey headed straight at goalkeepers Kasper Schmeichel with Sanogo waiting for a tap in before the striker himself was thwarted by a smart save.
"We just weren't clinical enough in front of goal to convert the chances into goals," Ramsey said.
- AP