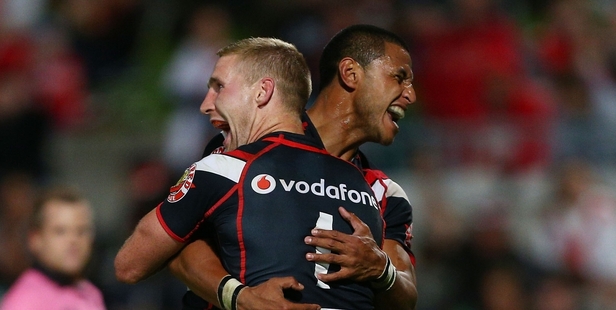 Warriors centre Dominique Peyroux is looking to turn a season of disappointments into a positive finish when he takes the field in Sunday's must-win clash against the Gold Coast Titans.
The 25-year-old will make only his third appearance of the year, after playing off the bench in the Warriors' round six encounter against Canterbury, and starting in the second-row the following week against St George-Illawarra.
Peyroux is thrilled to have earned a reprieve and excited by the opportunity to play against his former team, for whom he made 16 appearances throughout the 2011-2012 seasons.
"It's obviously been a long time coming," he said. "I've been working hard on my game and obviously Cappy's [coach Andrew McFadden] been watching and thinks I deserve another chance."
Despite his excitement, the Cook Islands international admits this year has been full of frustration, after turning out for the club's NSW Cup side on 16 occasions.
Seeing younger players promoted to the top grade ahead of him has been difficult.
"I've been trying my hardest to get back in the squad and he's [McFadden] been putting these young boys in front of me. It's just one of those things you have to be positive about and do what you can, control what you can control.
"That's the attitude I have now, a positive one, and I've just tried to put my anger and frustration out on the field and try to just play my game and obviously it's been rewarded."
Peyroux's teammates recognise the contribution he brings, and three Player's Player gongs and the club's monthly Mana Award are testament to the professionalism he maintained during his prolonged stint in the second-tier competition.
The Mana Award is "a little Maori carving that the club gives to one of the players once a month and that's recognition of their hard work and positive attitude towards the team and helping others as well".
It's those qualities McFadden hopes will help rejuvenate his side after back-to-back defeats to the Knights and Roosters that left their season on life-support.
"I expect Dom to bring lots of energy. He's played some really good football and he's been champing at the bit for his opportunity and he's got it now. I know he'll really add some spark to us," McFadden said.
After joining the Warriors last year on a two-season deal, Peyroux hopes the Warriors will take up a one-year contract option for next year, but says he will look further afield if he is surplus to requirements.
"I love the club and I'd love to stay but I've also got family and need to take care of them and put them first so hopefully I've got a few other clubs that are interested."