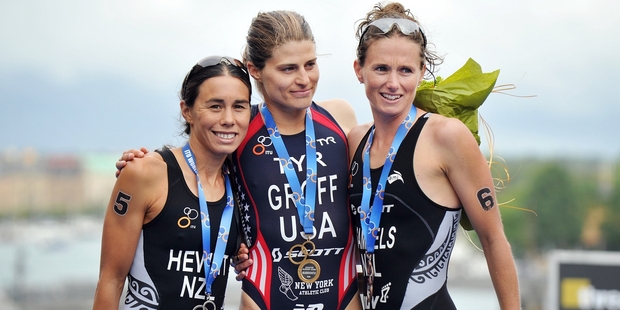 As a collective pep up, New Zealand's double podium finish in Stockholm early on Sunday served an ideal purpose for this weekend's world series grand final in Edmonton.
Andrea Hewitt finished second and Nicky Samuels third in the Stockholm leg of the eight-leg series, which concludes this weekend.
It was Hewitt's first podium finish in three years on the elite circuit; and Samuels' first, full stop.
Coming after a disappointing performance at the Glasgow Commonwealth Games, New Zealand needs a strong finish to the triathlon year. Stockholm certainly helped; a grand finale in Edmonton must be the target.
"There is pressure on us to perform, but no more than any race," national team coach Greg Fraine said yesterday. "We always want to perform at our best. You could say there is a point to prove.
"But we have done a lot of hard work since Glasgow. We did a thorough debrief, made some changes and there's been very good work done in the last period since Glasgow."
New Zealand's leading women, Christchurch's Hewitt - who sits fifth on the world series rankings - and Wanaka's Samuels, who is ninth, Whangarei's Simone Ackerman (No 46) and Kate McIlroy of Wellington (No 51) are lining up, while New Zealand's best men, Ryan Sissons (No 14) and Tony Dodds (No 24), will be on the start line.
There are a host of under-19 and under-23 competitors but the onus is on the elites to front up as the shop window of the sport.
Fraine hopes there will be a rub-off from the Stockholm result.
"Stockholm perked everyone up, even those who weren't there - the culture in the team is such that they were all excited to see those performances.
"It was a tough day with the weather, cobbles and course, it was very timely to build that confidence ahead of this week."
The Edmonton race will provide close to double the normal points through the earlier legs, and so there is the prospect of a top 10 finish overall for Sissons and perhaps even better final positions for Hewitt and Samuels.
Fraine described the Edmonton layout as "a good, solid course". The swim leg is in a lake with an island in the middle. The bike leg has two laps of 11km and one of 5km.