Fifteen-year-old finds balance — whether in weightlifting glory or on the rugby field.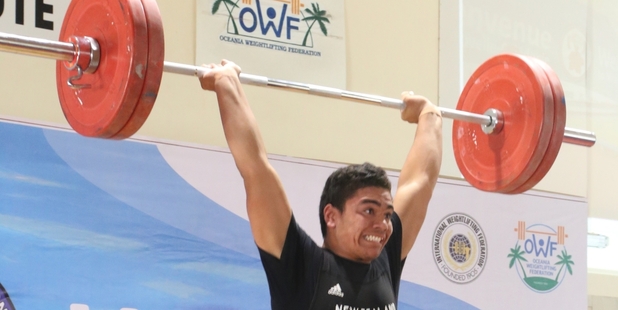 If you like sporting all-rounders, then you'll like Isaiah Papali'i.
The 15-year-old MAGS Year 11 student fits the bill in both weightlifting, where he excels, rugby, in which he shows promise and versatility, and even league.
All in a season's work for the well-spoken Papali'i, who has already shown leadership qualities in the MAGS First XV, even though he has potentially two more years in the team.
In April, he won two gold medals at the Oceania Weightlifting Champs in New Caledonia, winning the U17 (Youth) and U20 (Junior) divisions with a personal best 107kg snatch and a 125kg clean and jerk.
"Going over there I was looking to maintain performance under the pressure of the Oceania big stage," Papali'i said. "I had the numbers to win the gold, but keeping calm and performing under pressure were the goals for me."
He was just 12 when he first lifted a barbell, and while some frown upon youngsters getting into weights too young, it has not been a problem for Papali'i.
"I've just been brought up with it in my family, who are really keen on the gym. A lot of research was done and the advice I had was that it was all good. For me, it was about getting my technique right.
"Lifting is the base for your strength, and that's where all your athleticism comes from - speed, power and endurance."
You'll often find Papali'i working on that technique at Avondale's Zealous Crossfit gym, where he and best mate Montel Tivoli push each other. Their coach is Papali'i's uncle Jan Zabowski.
Papali'i explains how he psyches himself up for a big lift: "You are the dominant one between you and the weight. You just walk in relaxed and make sure you use on the day what you've trained for. The audience helps out with the adrenalin rush."
Yet weightlifting is not his main gig. "It's more of an accessory to my rugby. It helps with strength training but I enjoy it," he says.
When the Herald talked with Papali'i, his leg was in plaster, courtesy of a broken bone in the final game of the season for the First XV against Kelston.
Despite his relative youth and inexperience, he stood out for MAGS this season, plugging a hole in midfield, this after he had played most of the 2013 Under-15 season at No8! That leg drive came in handy under the relentless physical demands of playing in the Auckland 1A competition. "I was confident in myself. I had a couple of runs at second-five last year, so I got a feel for the position."
Though he hasn't played league this season, he has previously been a prop for the Te Atatu Roosters.
Papali'i is a young man with his priorities sorted, also excelling in the classroom. Sport helps keeps his body and mind fresh.
Rugby
Auckland 1A final: Auckland Grammar 31 (Cory Collins, Loketi Manu, penalty try; Wiseguy Faiane 2 con, 4 pen) St Kentigern 26 (Sam Nock 2, Wesley Tameifuna tries; Patrick Herbert con, 3 pen) Halftime: 11-9 Auckland Grammar
Auckland 1B championship final: Aorere 11 Dilworth 8
Auckland 1B plate final: Tamaki 29 Mt Roskill Grammar 14
North Harbour 1A final: Westlake 26 (Pierce Bryers, Levi McBirney, Izaak Scheib tries; Harry Calverley con, 3 pen) Rosmini 20 (Jacob Pierce try; Daniel Lee 5 pen) Halftime: 16-8 Westlake
Chiefs regional semifinals: Rotorua BHS 19 Wesley 8, Hamilton BHS 55 St Paul's Collegiate 3
Counties Manukau premier girls' final: Manurewa 24 Franklin Regional XV 12
North Harbour premier girls' final: Kaipara 35 Hato Petera 26
Auckland premier girls' final: Southern Cross 28 Onehunga 27


Football

Boys
Auckland
Senior premier league: Sacred Heart 4 St Kentigern 2; MAGS 4 Kelston BHS 2; Westlake BHS 5 Glendowie 1; Auckland Grammar 3 Macleans 0

Final standings P W D L F A Pts GD
Sacred Heart 14 10 3 1 46 10 33 +36
Westlake BHS 14 9 3 2 39 17 30 +22
St Kentigern 14 7 5 2 40 18 26 +22
Auckland Grammar 14 7 4 3 33 23 25 +10
MAGS 14 5 4 5 34 26 19 +8
Macleans 14 5 1 8 23 30 16 -7
Glendowie 14 2 1 11 12 60 7 -48
Kelston BHS 14 0 1 13 10 53 1 -43


Senior A1: Rosmini 0 Takapuna Grammar 0; King's 8 Onehunga 1; Kristin 2 St Peter's 1; Rangitoto 6 Liston 0
Senior A2: Rutherford 4 Papatoetoe 0; Western Springs 0 Northcote 0; Mt Roskill Grammar 1 Long Bay 1; Avondale 1 Pakuranga 0
Senior A3: Green Bay 3 Waitakere 3; Albany Senior High 3 Botany Downs 1; Howick 4 Lynfield 3; Kingsway 4 One Tree Hill 0
Senior A4 Top 5: Pinehurst 2 Massey 1; Dilworth 0 Selwyn 0

Counties Manukau
Championship: Pukekohe 3 Strathallan 1
Plate: Ormiston 1 De La Salle 0

Girls
APC
Premier division 1 (U19): MAGS 1 St Kentigern 0; Takapuna Grammar 1 EGGS 0; Diocesan 2 Rangitoto 1; Macleans 2 St Mary's 1
Premier division 2 (U19): Baradene 1 Green Bay 0; Whangaparaoa 2 Botany Downs 1; Avondale 2 Western Springs 1


Badminton

Counties Manukau
A grade final results for 2014 interschool competition:
Winner: StrathallanAces, Runner-up: Manurewa, 3rd: Rosehill
B grade final results:
Winner: Otahuhu, Runner-up: Alfriston College B2, 3rd: Alfriston B3
Secondary schools 'Clash of the Smash' top team:
Boys: Manurewa 1, Strathallan 2, Rosehill 3
Girls: Strathallan 1, Rosehill 2, Alfriston 3


League

SAS College Rugby League award winners:

CRL Under-15 9-aside Cup champions - St Paul's
CRL Under-85kg Restricted Cup champions - Mangere
CRL Premier Bowl champions - Papatoetoe High
CRL Premier Plate champions - Southern Cross Campus
CRL Premier Cup champions - Kelston Boys' High
CRL Referee of the Year - Kiko Puhipi-Hibbs
CRL Coach of the Year - Phil Gordon (Kelston Boys' High)
CRL Premier top tryscorer - Iese Aiga (Papatoetoe High)
CRL Premier top points scorer - Cody Mahukia (St Paul's)
CRL Player of the Year - Alfred Smalley (Otahuhu)
CRL Competition Excellence Cup - Otahuhu

CRL Premier First XIII merit team of the year:

1 Cody Mahukia - St Paul's
2 Nafe Helu - Westlake Boys' High
3 Alfred Smalley - Otahuhu
4 Viliami Maamaloa - Southern Cross Campus
5 Gerar Vili - St Paul's
6 Erin Clark - Manurewa High
7 Zion Ioka - Kelston Boys' High
8 Jamel Hunt - Otahuhu
9 Iese Aiga - Papatoetoe High
10 Alrohala Lavea Malrick - Western Springs High
11 Shane Hennam - Kelston Boys' High
12 Eddie Wulf - Kelston Boys High
13 Mattais Heimuli - MAGS
14 Mose Esera - Henderson High
15 Xavier Rice - St Paul's
16 Alexander Nai - Aorere
17 Connor Purcell - MAGS

Coach: Phil Gordon - Kelston Boys' High

Cycling

Auckland SS teams time trial series race 6:

Junior boys: Takapuna Grammar A 1; Auckland Grammar A 2; Auckland Grammar B 3
Junior girls: Baradene A 1, EGGS A 2, St Kentigern A 3
Senior boys: St Kentigern A 21:55.81; Westlake BHS A 22:42.87; Takapuna Grammar A 22:45.30
Senior girls: Baradene A 25:31.47; St Kentigern A 26:06.08; Takapuna Grammar A 26:33.97


Netball

Auckland premier: MAGS 48 Diocesan 15, EGGS 29 St Mary's 27, McAuley 26 Botany Downs 25, AGGS 34 Massey 25, Baradene 24 Avondale 22, St Kentigern 39 Aorere 35
Auckland senior A: Waiuku Gold 36 King's 24, Macleans 27 St Kentigern 25, Howick 28 Baradene 28, MAGS 41 AGGS 21, Sancta Maria 28 Onehunga 23, St Cuthbert's 46 Marist 17

Table tennis

Auckland inter-schools A premier grade knockout championship:
Auckland Grammar A 4 Macleans A 0, Macleans B 4 Pakuranga A 1, Auckland Grammar B 5 Macleans C 2, St Kentigern A 4 Auckland International College A 3

Final placings:
1. Auckland Grammar A
2. Macleans A
3. Macleans B
4. Pakuranga A
5. Auckland Grammar B
6. Macleans C
7. St Kentigern A
8. Auckland International College A

Underwater hockey

Senior girls: EGGS A 2 MAGS A 1, Glendowie 3 MAGS B 2, Howick 6 Diocesan 4
Senior open: Mahurangi B 4 Northcote 0, Macleans 9 Avondale 1, Mahurangi A 2 MAGS 1, Glendowie 2 Howick 1

Lacrosse

NZSS girls' champs
Final: Cambridge HS 8 MAGS 4; Third/fourth playoff: EGGS 11 Avondale 10

Auckland boys: Michael Park 21 Mt Roskill Grammar 1
North Shore boys: Pinehurst 5 Orewa 5

Basketball

Greater Auckland tournament - pool results
Open girls' section A: Orewa 35 Glendowie 26; Rosehill 43 Rutherford 18; Glendowie 29 Rutherford 28; Orewa 37 Rosehill 28; Orewa 42 Rutherford 30; Rosehill 33 Glendowie 23
Open girls' section B: McAuley 46 Waitakere 27; Westlake GHS 53 Diocesan 21, McAuley 29 Diocesan 19; Westlake GHS 70 Waitakere 30, Waitakere 39 Diocesan 25; Westlake GHS 27 McAuley 24

Open boys' section A: Rangitoto 47 Kelston BHS 46; Alfriston 31 Glendowie 25, Glendowie 40 Rangitoto 38; Alfriston 38 Kelston BHS 24, Glendowie 48 Kelston BHS 31; Rangitoto 37 Alfriston 36.
Open boys' section B: St Peter's 48 Pakuranga 41; Massey 42 Takapuna Grammar 29, St Peter's 38 Massey 25; Pakuranga 44 Takapuna Grammar 35, Pakuranga 38 Massey 29; St Peter's 44 Takapuna Grammar 41
Hockey

SuperCity semifinals
Boys' one: King's 3 Rangitoto 0; Westlake BHS 4 St Kentigern 0; MAGS 2 Rosmini 1; Auckland Grammar 6 Kristin 5
Boys' two: Mt Roskill Grammar 6 Westlake BHS Second XI 5; Sacred Heart 5 Kingsway 3; Pakuranga 4 King's Second XI 3; Takapuna Grammar 7 Macleans 6
Girls' one: Westlake GHS 1 EGGS 0; Diocesan 1 Kristin 0; St Kentigern 5 Carmel 0; Rangitoto 2 St Cuthbert's 1
Girls' two: Botany Downs 7 King's 0; Baradene 4 St Mary's 2; Northcote 2 Westlake GHS Second XI 0; Rangitoto Second XI 8 St Cuthbert's Second XI 6