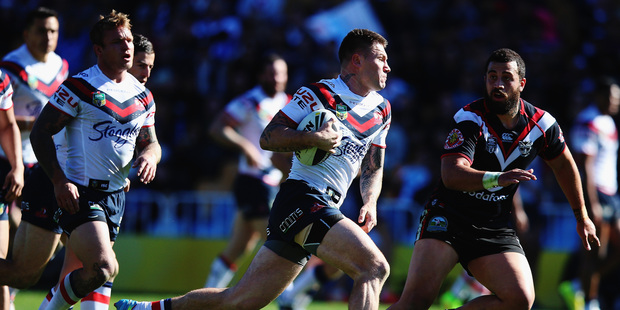 The weekend's result against the Sydney Roosters was obviously bitterly disappointing and has left us with a lot of work to do to get things back on track ahead of Sunday's clash against the Gold Coast Titans.
We were well off our game in most areas and if you play like that against a team like the Roosters you'll get found out.
The second-half blowout was a result of us not defending as well as we can and the Roosters being red-hot in their intent and execution. They hardly put a foot wrong when they had the ball and we slipped off in defence and let them get on the front foot. Once they got the roll-on it was tough to stop.
We also haven't executed the game plans we've been given as well as we should have over the past two weeks. Although we've proved previously that we can compete with the best teams, we've recently failed to reach that level of performance. We certainly don't shy away from those facts when we review the games and assess where we went wrong and we are all acutely aware of the challenge ahead of us now.
People have asked me whether the big win over Canberra a few weeks back gave us a false sense of where we were at. But that wasn't the case and we didn't read too much into that result at all. We realised the Raiders were off their game that day and we were on and we certainly didn't get ahead of ourselves afterwards.
Similar questions about the changes in our halves are also off the mark, with Chad [Townsend], Thomas [Leuluai] and Shaun [Johnson] all combining together in recent weeks. Those changes don't really make too much of a difference to our structures and we've trained with all the different combinations throughout the year so I wouldn't put our dip in form down to that.
There is a tremendous determination within the group to get things back on track and not let our coach Andrew "Cappy" McFadden down. Everyone has full confidence in what he has brought to the team since taking over and he demands high standards that we have not met in recent weeks.
Individually we've got to look at our own games and see where we can improve. We've put ourselves in this situation and know that we need to be a lot better and will do our best to turn things around.
Despite our situation no one is panicking and there won't be any drastic changes to our plans, we just need to execute our plays better.
Cappy always presents us with good game plans but if we don't follow it we won't achieve the results we're wanting.