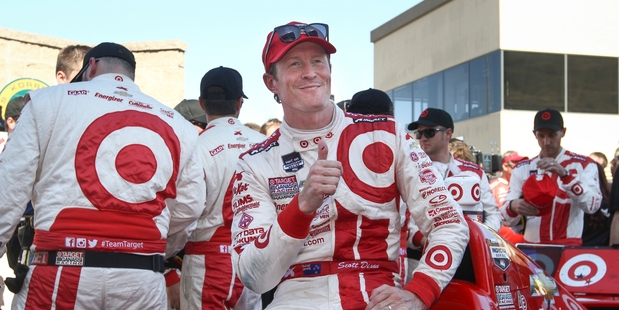 New Zealand driver Scott Dixon surged ahead with three laps left for a victory at Sonoma Raceway yesterday while IndyCar points leader Will Power, of Australia, recovered from a mid-race spin to finish 10th heading to the season finale.
Power leads teammate Brazilian Helio Castroneves by 51 points heading to the double-points finale at Fontana on Sunday. Castroneves struggled to an 18th-place finish at Sonoma.
Frenchman Simon Pagenaud is 81 points back in third after a third-place finish on a wild day in wine country.
Dixon is out of the race to defend his 2013 title, but he grabbed his 35th win after leader Graham Rahal was forced to pit for gas with four laps left. Dixon slid inside Mike Conway for the lead and held on for Target Chip Ganassi Racing, moving him into a fifth-place tie with Bobby Unser for career victories on the circuit.
Rahal and Conway both tried to push to the finish on low fuel, but neither made it. Ryan Hunter-Reay finished second, and Takuma Sato was fourth.
"There were so many strategies going on, and they were just slightly off," Dixon said. "I didn't know who could make it ... So excited. This is big for our team."
Power crossed the finish line ninth after a ferocious last-lap push past Justin Wilson, culminating in a thrilling three-wide sprint with Sebastien Bourdais. But IndyCar recorded Wilson in ninth and Power in 10th because of a local yellow flag for the slowing car of Conway, who crawled across the line.
Sonoma Raceway was unaffected by an earthquake centred just northeast of the track about 10 hours before the race began. The 6.0 quake left several drivers alarmed, but unharmed.
Power and Castroneves were evacuated from the Team Penske hotel, giving them a sleepless night before driving Sonoma's difficult road course.
- AP