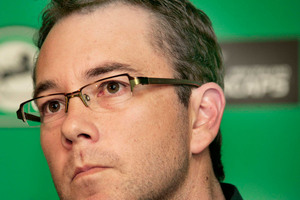 New Zealand Cricket want Craig McMillan to continue as batting coach of the national side until the end of next year's World Cup.
The Herald on Sunday understands both parties are in negotiations but the arrangement, where McMillan replaced Bob Carter on a temporary basis for this year's West Indies tour, worked well.
New Zealand suffered a relative dip in batting form in the second of the three tests, which the West Indies won, but excelled in the two wins. Five players - excluding Brendon McCullum and Ross Taylor - had series averages of more than 45.
McMillan has since joined the New Zealand A tour of England and Scotland where, in seven completed one-day matches, there have been seven centuries. New Zealand won six of those matches, including a tri-series with counterparts from England and Sri Lanka.
In the four times they've batted first, New Zealand A accumulated 424 for seven, 282, 347-6 and 369-6.
McMillan played international cricket for 10 years, held a respectable record in all formats and is familiar with the rigours of the professional game.
He struggled in patches during his career and part of the desire to keep him is based on the belief he's capable of building empathy with players who suffer similar dips. A potential hiccup could be McMillan's steady transition into the commentary box and other media, where his willingness to proffer forthright opinions is welcomed. Any contract with NZC will curb this. He would also be required to spend plenty of time away from a young family.
If McMillan signs, he'll join a senior team of coach Mike Hesson, bowling coach Shane Bond and manager Mike Sandle ahead of cricket's one-day international showcase in February and March.
All contract extensions beyond that will be dependent on Hesson re-signing with NZC, a fait accompli expected to occur in the next few weeks.
Negotiations have begun but Hesson and New Zealand chief executive David White have recently been on leave.
White is in China watching his daughter, Tayla, compete for New Zealand in hockey at the Youth Olympics.