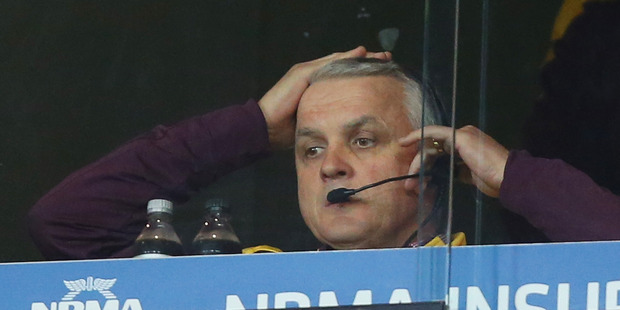 Avoiding a second straight season without finals football trumps any personal duel with Wayne Bennett in coach Anthony Griffin's preparations for tonight's NRL clash with Newcastle.
The Broncos have never had back-to-back campaigns without finals since their inception in 1988 and Griffin doesn't want to be the man to leave the club having set that unwanted record.
Bennett's trip north to take on the club he'll be coaching next year in Griffin's place will dominate pre-game chat, but as far as the current Broncos mentor is concerned it's a moot point.
"I've been coaching for four years against a lot of coaches and what's done is done as far as what's going to happen next year," Griffin said.
"I'm just looking to focus on what's happening now and that's an important game for us tomorrow."
The Broncos know a win over the in-form Knights may well leave Brisbane in the top eight at the end of the weekend with two rounds to play.
Last weekend's loss to South Sydney was tempered by results falling their way in other matches but Griffin knows his team can't bank on more favours.
"We've just got to get the win," Griffin said. "Everyone understands that now."
Griffin has confirmed veteran back Justin Hodges will spend some of the game at fullback following Josh Hoffman's ankle injury against the Rabbitohs.
The 32-year-old hasn't played at fullback since 2006 and will share the role with youngster Lachlan Maranta.
Newcastle will have plenty of confidence after securing a win over the Warriors last weekend to make it six victories from their past eight starts.
Griffin said there was no doubt that although the Knights were out of finals contention, they would be opponents to fear.
"They've been in great form. They've beaten the Roosters, they've beaten the Storm," he said.
"It's going to be a tough match."
- AAP