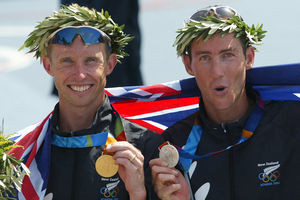 10 years ago on Tuesday at the 2004 Olympic Games in Athens
Hamish Carter and Bevan Docherty rewrote history
They became only the second New Zealand duo to go gold-silver in an Olympic event. This is their story.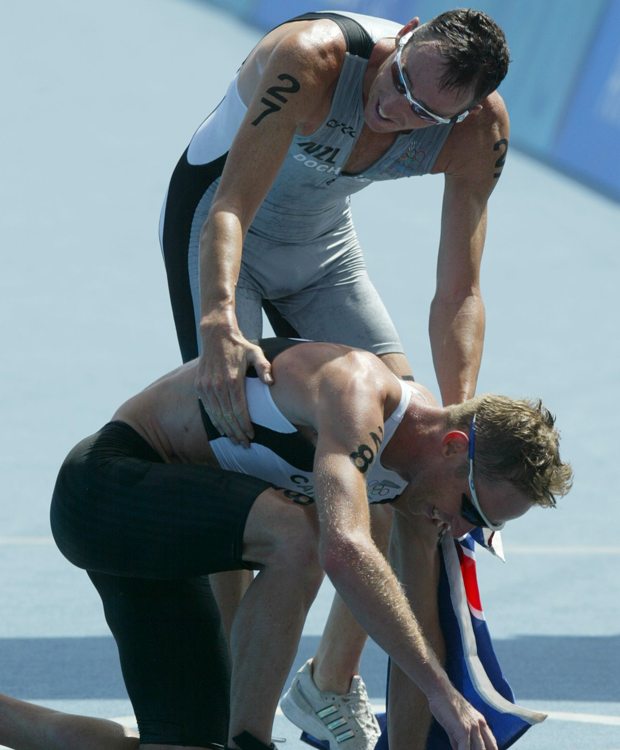 TABLE OF CONTENTS:

33-year-old Hamish Carter arrived at the 2004 Athens Olympics with redemption on his mind. Four years earlier in Sydney as a heavy favourite at the first ever men's triathlon event, he finished 26th - more than two minutes out of the medals.
Four years later and four years wiser Carter's biggest competition wasn't just the demanding course and rising Athens heat but also 27-year-old teammate Bevan Docherty who two months earlier won the world championships in Portugal.
The Buildup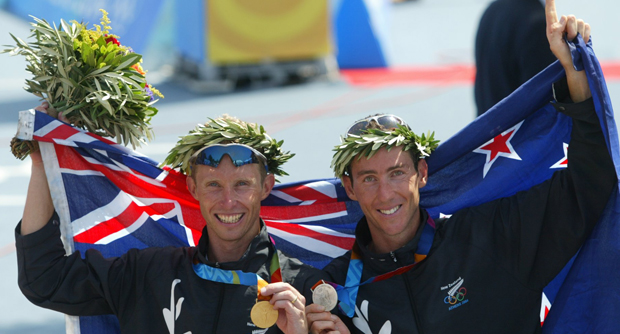 Hamish Carter
(New Zealand)

People see the Olympics as an inspiring place to go but it's terrifying and overwhelming most of the time. It's ugly, really ugly. Sydney played on my mind every minute of every day. It took me a long time to control it because it completely took over. You go in having done 10 years preparation and it was a complete disaster, so it undermines everything you believed in and everything you thought you were good at. You end up thinking, 'I must have this horribly wrong'. It led to a complete re-invention of myself, which was pretty ugly at times. Luckily, I had the right people around me to help me through it.
Mark Elliott
(high performance director and Bevan Docherty's coach)

I was heavily involved in his buildup to Sydney and he was really wound up. I remember going for a run with him the night before. Usually you go for an easy, 30-minute jog at 3pm but he wanted to do hill reps. I had to say to him, 'you've done the work, you don't need to be testing yourself now'. Hamish put a lot of pressure on himself to win and everyone else expected him to front up and win because that is what he had been doing at a lot of World Cups.
Carter

For a long time, I never wanted to go back to the Olympics but I knew I couldn't walk away from it having performed that way.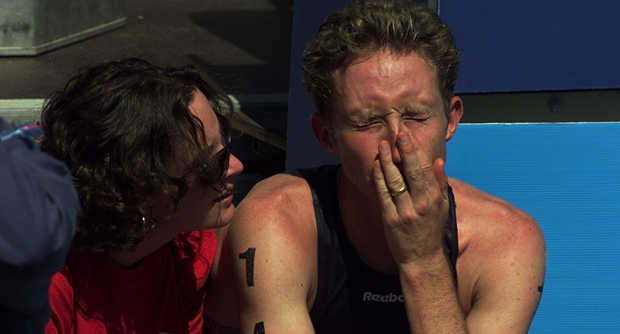 Hamish Carter is consoled by his wife Marisa after his disappointing race at the 2000 Sydney Olympics. Photo / Brett Phibbs
Kris Gemmell
(New Zealand reserve)

Hamish and Bevan finished fourth and fifth at the world champs in 2003 in Queenstown [to earn automatic selection for Athens]. The qualifying criteria was to finish in the top six. The second qualifying race was in Tasmania... and Nathan Richmond finished one spot in front of me and qualified for the Games. I was nominated as the reserve.
Nathan Richmond
(New Zealand)

I was the outside pick for the team. If you had your ear to the ground in the triathlon community, the understanding was Kris Gemmell was going to be the third guy. I earned my spot in early February racing in Tasmania. The reality of being part of that Olympic Games campaign, it was quite surreal. It's something I dreamed about ever since I was a young kid. I never wanted to be a fireman or dentist. I wanted to be the best I could be in sport and suddenly that pathway was coming to fruition.
Gemmell

Bevan and I made a pact. If we both made the Olympics, we would train every day together leading up to the Games. If one did and the other didn't, then we would still stay together and do the same training programme. The main goal was to stick together as long as we could and knew if we did it like that there would be some benefit down the track even if you didn't make the Games. The moment after I didn't qualify, I came back and packed up some stuff in Christchurch and followed Bevan.
Elliott

We wanted to make sure the guys had the best people around them. Both Hamish and Bevan like low-key approaches. They don't like intensity or extra fluff around the outside of the programme. It was a matter of having the right people around them and having guys they enjoyed the company of.
Gemmell

[Hamish's coach Chris] Pilone didn't want me at the training camp [in France]. He was worried I was going to create conflict because, not only was I going to be helping Bevan but I might also be on a mission to prove a point because I could have been on the team. I had also been going really well and had won two races before that. Mark and Bevan stepped in and said Kris wasn't there for that and would be a team player. Once that was sorted out it was all good.
Richmond

Hamish took me under his wing for a number of years and was quite instrumental in carving that pathway for me. There was no real strangeness to the buildup and I worked with people I knew. It was a neat thing to have.
Gemmell

We knew Hamish would have Nathan as a training partner. It wasn't about making it Hamish versus Bevan but, knowing the course, it was already looking like something like that could very easily happen.
Carter

There was natural tension in a group like that but Mark Elliott played a really critical role in controlling that. We couldn't have done it on our own. Bevan and I were two of the best triathletes in the world at the time and we were training together every day. That was massively beneficial because, without Bevan, I don't think I would have pulled my head out of my arse and actually fronted up. He made me the athlete I became.
Elliott

Bevan winning the [2004] world champs was probably one of the biggest things that shocked Hamish into realising he had a team-mate as good if not better than him at that stage. I'm sure that spurred him.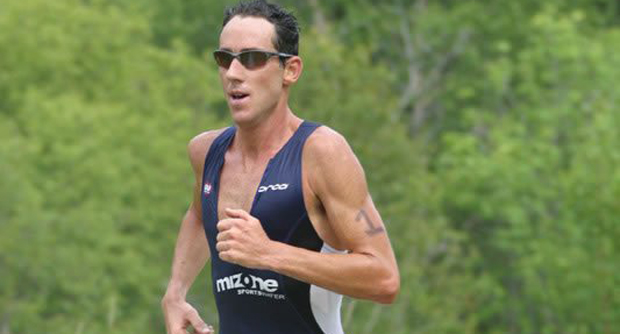 Bevan Docherty went into the Olympics as the world champion.
Carter

It wasn't good having him there because, when he got better, it pissed me off. If he ever beat me in training, it pissed me off. But at the time you deal with that. It either destroys you or makes you stronger. It didn't destroy us. We are good mates but highly competitive as well.
Elliott

We all bought souped-up remote control cars and got fairly competitive with those. We were racing those a lot on the tennis courts in our base in France. We brought them into the village in Athens and were racing them along this beautiful, smooth path in front of New Zealand house one day. A truck-load of swat guys turned up with AK47s and told us to shut it down. The Israeli building was just around the corner and they were worried we were terrorists.
Richmond

The course [for the Athens race] was incredibly hard. After the world champs in Portugal, when Bevan was awesome, the next day Sam Warriner, Hamish, Bevan, Mark Elliott and I jumped on a plane and flew to Athens to look at the course. I remember standing at the top of the bike climb and Bevan picking up a boulder and letting it go down the road. This thing gained incredible momentum and went flying into a bush. I was like, 'yikes, this is one serious climb'. And it was. Hamish said, 'it's going to be nutty'. They just laughed. We felt like we were getting insider trading on the course.
Elliott

I looked at the course and, knowing the strength of Hamish and Bevan on the bike, if there was one course that was going to suit them it was this. The steeper it was the better because they were getting leaner and leaner as they matured. We knew the course was going to hurt a lot of people but not them so much. We just sat at the top and smiled, really.
Carter

It brought home the type of race it was going to be. We looked at the course and thought, 'wow, this is what we wanted to see'. But I was in a position where, whatever the course, I had the smarts to figure out what I needed to do. I had won plenty of flat races, slow races, fast races. It didn't matter to me at the time.
Gemmell

Four or five days before the opening ceremony, we rode up into the mountains and it turned into a little bit of a race. Everyone was venting a little, which can help in a closed-circuit environment. It came down to Hamish and Bevan just going at each other and me just sitting on the wheel and watching it happen in front of me. We breasted at the top and they looked at each other and gave each other a wry smile and then looked for my reaction. I just put my hands in the air and shrugged my shoulders and thought, 'well, good luck to anyone who thinks they can ride up a hill with those blokes'. They couldn't drop each other. It got back to the coaches and Pilone had a quiet word to me on the way down, 'what the f*** went on up there?' He knew something was going on. He had a dressing down with Hamish when they got back and Mark might have done the same with Bevan. It was all in good spirits and probably something that needed to happen.
Carter

It's far less symbolic in my head. All I was there for was to do a ride. We were riding quite steadily but only because we were fit. I never unleashed hell on Bevan at all. I could have attacked him if I wanted to. I think we were both controlling our effort but both wanted to test each other. We were in incredible shape. We were flying up the hill.
Elliott

That might have been one session out of 20 or 30. It wasn't like they were going hammer and tongs at each other every day.
Simon Thompson
(Great Britain)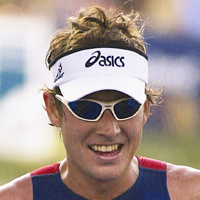 There were some stories going around about how fast Hamish was running on the track, like doing 10 1km repeats in 2.45, or something like that. There are always rumours and stories that go around.
Gemmell

Bevan went to the opening ceremony but Hamish stayed behind and decided that would be the day he would do his last key session. It was a swim followed by a two-hour bike followed by eight 1km runs on the track. Hamish had a young training partner with him at the time, Liam Scopes, and Clark Ellice trying to pace him. They were doing alternates but Hamish was going so fast he blew them out after six. I was there watching. Pilone came rushing over to me and said, 'Gemmell, Gemmell, we need you to get in. You need to help him'. I quickly jumped on the track and did the last two with Hamish. The last was 2.42, which was pretty quick given the whole session. And I knew he still had some left in the tank if he really wanted to empty himself. I went away from that session thinking, 'where's the nearest TAB?' Things were looking good for him and I knew what Bevan was doing. Bevan came back and did an almost identical session with almost identical times. I said to Mark, 'if I put them in a pot now they are as even as they can be and it will be just on the day'.
Carter

We had prepared for three years to do that one session. It was a very important afternoon. I had asked the guys to run 2.45, 2.48 kms. This was after a really hard swim and bike. The bike I did that morning was far and above the intensity of the race and I came off rooted, which was the intention. And then I was trying to run eight 1kms as fast as I could. I said to Pilone, 'don't tell me my time for the first three or four, I will run them hard and see where I end up'. Once we got to the fourth one he said, 'you're running under 2.50' and I'm like, 'it's on'. I had never run like that before.
Elliott

We always planned for Bevan to go to the opening ceremony. The Olympic bubble is something that can affect young guys. It was important he and Nathan went, as first-timers. Hamish planned to go in but, when he wasn't swimming that well, decided it was better to stay behind. I remember Bevan saying it was a frustrating thing to do but worth it and, when he went back to Athens again, he understood it and found it an easier environment to slot into.
Carter

I was a bit worried about my swim. The problem is, you lose a lot of strength as you run faster and the trick to the sport is trying to figure out how you develop as a swimmer while you run well. I didn't really figure that one out well so, on the start line in Athens, I was going to struggle in the water.
Mark Bone
(swim coach for Carter, Docherty and Richmond)

The biggest difficulty with Hamish going into the last part of training was that he was in such tremendous shape he had lost so much body fat. He was so lean and skinny it affected his swimming. When you don't have that buoyancy, you don't have the feel and he was really concerned about that. It was a matter of telling stories to him all the time, making him believe it will all be fine.
Gemmell

Hamish was a little concerned about his swim and wanted to fly Mark Bone over. They were doing video analysis of his swim. That was a bit of a red flag.
Bone

I was so busy, building [my swim school] Swimtastic. As much as he wanted me over there, I couldn't afford the time away. But my philosophy is that I'm useless when it comes to race time. I can help you do all the work but you have to race. If you depend on me, then you are depending on something that's never going to help you long-term. You have to make the athletes independent of you.
Carter

All that time you are preparing for that one race and one month out you are like, 'shit, I'm starting to drift on this one aspect' and you can't just make a change on the spot. It was a bit of a worry. But I was incredibly fit. If I could limit the damage in the water, I knew I could get back into the race.
Docherty

A couple of days before the race, Sarah Ulmer won her gold. I was with Mark Elliott watching her come back into the village. It's always a big deal when a Kiwi comes back with gold, or any sort of medal. I remember standing there in the background watching a lot of the team do the haka. It sent chills down the spine. It was pretty awesome to witness. I mentioned to Mark, 'geez, I would love to have something like that'. It was a pretty inspirational moment.
Carter

I was pleased for [Sarah] but I also felt gutted. Mostly, I felt fear. I thought, 'oh my god, I'm never going to have that'. I went to bed that night a nervous wreck and hardly slept a wink. The next morning I felt exhausted. I was convinced I had blown it. My confidence was at ground zero. I had to talk to Marisa immediately. I thought I was having a nervous breakdown, I felt utterly lost. As soon as I heard her voice, I lost it. I was bawling so much I couldn't speak. She let me have it. 'For God's sake, pull yourself together. You're at the Olympic Games. I trained me whole life to get there and didn't make it.' She really blew up at me and it was like a light switching on. I saw it for what it was, just a race
Marisa Carter
Hamish's wife

I was worried sick when I got off the phone with Hamish. I was tearful on and off for a day or so because I thought it was going to be Sydney all over again.
Docherty

One of the best memories I have was the dinner the night before. We had rented an apartment. These other teams had chefs to cater for them and had a management team 10-strong. We had a couple of coaches and three athletes. The night before we all chipped in to cook dinner and sat down and ate together. It was a good, relaxed atmosphere. We sat on the deck and ate dinner and chatted. Everyone chipped in and felt like they were part of a team
Carter

You get into the Olympics and it's so foreign, so different. When we moved out of the village to a house, and there were kitchens and bedrooms, a front door, it was like we were just at another race. All the song and dance around the edges was gone.
Richmond

It was a chicken dish, rice. I think there was couscous involved. Hamish had a cat called Couscous. If Hamish was ever involved in the kitchen, it generally involved some kind of couscous. It was a beautiful Athens evening, the sun was setting. Mark and Pilone nodded off because they were knackered. They had done everything they possibly could to have these three race horses ready.
Elliott

One of the boys was in charge of salad, I think it was Nathan, and did a terrible job so we had to help him. I think that dinner just summed up the buildup - a low-key, Kiwi attitude. That's what the guys wanted and it's what they got.
Carter

We were able to relax and not have a whole lot of people around us trying to help or do stuff for us - or saying, 'ohh, big race tomorrow guys'. We were just there having dinner. We could have been anywhere in the world and had done it hundreds of times before. We were able to unplug from what we were about to do, which was really important.
Richmond

It was incredible. There was a harmony but at the same time a bit of electricity in the air. Something good had to come from this campaign. We had no idea what it was going to be.
Thompson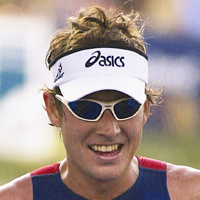 Australia, New Zealand and Canada were the strongest at triathlon at that time so, if you were on the team, you were in the hunt for the medals. It was going to be the case in Athens on what was a brutal course.
Gemmell

Bevan is a very confident person and selfish by nature, which is why he's such a great athlete. I knew he was ready to go.
Richmond

Gemmell and I had joked earlier as we talked about our picks for the race. I said, 'Carter, Docherty and one of the Aussies'. Kris said, 'I'll go the same but I'll go Bevan then Hamish'. They were the camps we were sitting in. We believed in the people we were around.
Bone

Bevan was the form horse. He was incredibly confident, amazingly confident. He knew he was in good shape and winning the world champs only heightened that. Hamish was the sentimental favourite but I still felt Hamish was in outstanding shape. I never bet, but I put a bet on for the pair of them to get gold and silver. That's how confident I felt. I did it as a statement to myself
Race day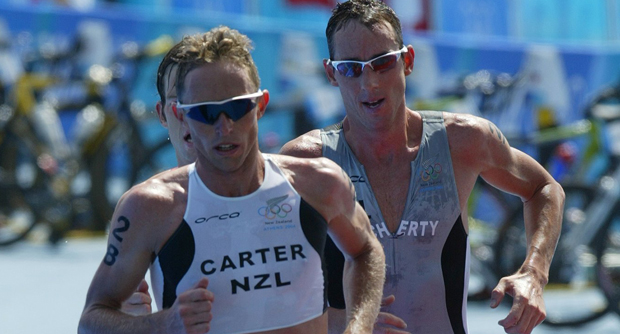 Richmond

I didn't sleep well the night before. I probably didn't get to bed until 1am. Whether that was nerves and the reality that my nation was waiting to watch us perform, I don't know. The gravity of that hit home and, on reflection, I don't think I did enough mental preparation or put in enough backstops for that anxiety.
Docherty

People said I was the favourite and I feed off that quite well. You can look at things positively or negatively and I try to take the positives out of everything. I was just excited to be favourite and it boosted my confidence. I looked at in the way that everyone was fearful of me and it was my sort of course.
Richmond

Hamish seemed to be on a mission to remain relaxed and not make the same mistakes he made in Sydney. He had learned from that campaign and lessons that were invaluable.
Thompson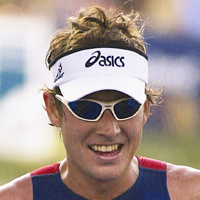 At the pre-race briefing, you have to sit through the rules and regulations of the event. It's called the show and shine and everyone is checking each other out to try to see how fit everyone is. It's all so superficial. Hamish was just a couple of rows in front of me and he was fast asleep. I thought, 'wow, Hamish is pretty relaxed'
Elliott

Pilone and I were sitting in the gutter about 15 minutes before the pontoon callup. We were sitting there doing nothing because Hamish and Bevan were ready. Simon Whitfield ran past looking for a bike pump or something and Ivan Rana looked pale. He's a dark-skinned Spanish guy and looked as pale as a soccer ball. Those guys looked like they were about to face death and our guys looked like they were about to face the race.
Andrew Saville
(radio journalist)

They lined up for the race. All the athletes were keeping warm and flicking their legs in nervous energy. Hamish was sitting on the ground near me over the barrier. I have never seen anyone look so bloody relaxed before a big event. I was chewing the fat with him and I remember thinking, 'god, I wouldn't be talking to anyone before a race like that'. I said, 'g'day' and 'make sure you come over here when you win'. He said, 'yep, OK'.
Carter

I definitely noticed a much higher level of anxiety among others, which surprised me. In Sydney it was the other way around. I was the one freaking out and feeling nervous.
Richmond

You are called out according to country so I was 29, Hamish was 27. It was pretty surreal. To see the people lining the course was incredible, the two helicopters hovering above you, the downward force, the noise, the marshalls lined up. Hamish had waited. I said, 'good luck, you have done an incredible amount of work and you truly deserve to do well today'. Hamish was so skinny. He has this nervous thing where he spins his wedding ring with his thumb and he was so skinny it was spinning. He said, 'thanks a lot, you too'. And then he walked out onto the pontoon.
Simon Whitfield
(Canada)

I stood on the start line with Hamish in Sydney and he was world No 1 and ranked to win. I was totally off the radar, ranked about 27th. I looked up to Hamish, who seemed pretty nervous and I had no pressure on me. I turned to him and said, 'I hope we don't get eaten by any sharks'. He looked at me with this funny face and basically said, 'shut up and get away from me'. Four years later, we were standing on the start line and I was the defending champion and all the pressure was on me. Hamish was considered at the time past his prime. Hamish turned to me and said, 'there are some beautiful fish out there in the Mediterranean' and I basically looked at him and said, 'shut up and get away from me'. It really symbolised where we were at in our preparation and mental attitude.
Saville

His failure in Sydney flashed through my mind. Seeing him so relaxed, I thought he had clearly put what happened four years ago well and truly behind him. It felt like he had nothing to lose in what would be his last crack at the Olympics.
Carter

Athens wasn't necessarily about a result. It was about producing a performance I could be proud of. I was resigned to the fact that might mean anything from 10th to 50th. But that was separation I found and it worked.
Docherty

You are so nervous before a race like that. I kind of zone out. If someone asks me a question, they're really not going to get much from me. I try to hold back the nerves and not let them affect me too much. I knew I was going to work but I tried to stay focused and block out anything else.
Thompson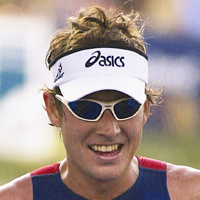 Bevan was more of a mongrel. You had to go to war to beat him. If he had a bad day he finished sixth or seventh. He never finished 30th.
Gemmell

I [was calling the race for TVNZ and] told Brendan Telfer before it started what was going to happen. He pushed the lazy button on the mic and said, 'you can't do that, you can't call it this early'. I said, 'well, you asked me and I'm just telling you, this is what is going to happen'. When you train with these guys and race against everyone else in that field, there are no secrets. You know exactly what level everyone is at. It's not rocket science in our sport. You can't change your form dramatically from one week to the next unless you are up to no good.
The swim - 1.5km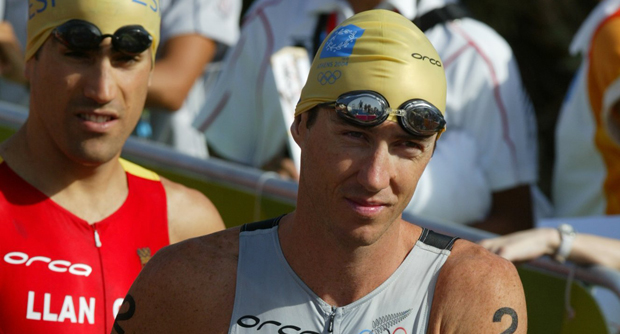 Carter

I wasn't happy where I was at on the swim leg. [Australia's] Greg Bennett had got onto my hip straight off the dive. It makes it really hard to swim fast when someone is on your drag, so I drifted back. I was a lot further back than I should have been. At that point in my mind, I had to relax and go with it because there was nothing I could do about it. You are in the water for 17 minutes and well back and it's a long time to be like, 'oh shit, oh shit, this is not good'. In Sydney, it would have affected me but, in Athens, I trusted myself to be able to get back into the race. I knew the race wouldn't be won or lost in the swim. I kept telling myself, 'this is just the start, it's going to be OK'.
Richmond

On the swim, I think Hamish expected me to go down to him but it doesn't work like that. I got out of the water second behind Marko Albert of Estonia but my heartrate was through the roof. It was higher than it ever should have been. I had worked extremely hard. It was a hard swim and the water was warm so it wasn't refreshing. I went through transition and there was a string of athletes. At that point, it felt out of control. I didn't feel like I was in control of my race and my destiny.
Docherty

The nature of that course, it was just a matter of coming out in touch and staying out of trouble. I knew on the bike was where the real damage was going to be done so everything went according to plan on the swim.
Bone

I knew Nathan would be quite dominant in the swim. I was looking for Hamish and Bevan and when you see 33rd and 18th you go, 'geez, have they done enough?' But they were within seconds of the lead and had done enough work so I wasn't too worried.
Carter

I was definitely down after the swim but was confident I could bridge any gap on the bike.
Times after the swim leg:





Nathan Richmond

(NZL)

- 00:18.04

8th



Andrew Johns

(GBR)

- 00:18:11

16th



Bevan Docherty

(NZL)

- 00:18:13

17th



Sven Riederer

(SUI)

- 00:18:17

23rd



Hamish Carter

(NZL)

- 00:18:19

28th



Simon Thompson

(AUS)

- 00:18:19

31st



Simon Whitfield

(CAN)

- 00:18:21

36th




CLICK HERE FOR PART II -
"The Bike, The Run, History Made..."