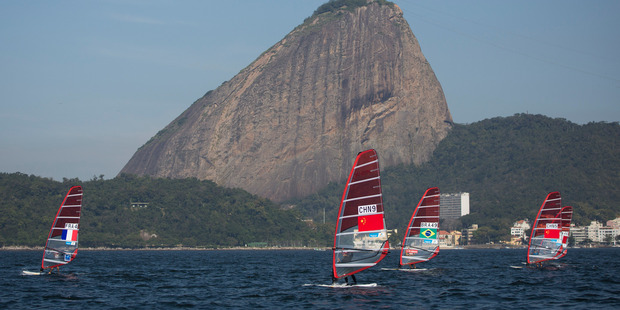 New Zealand's best sailors are confident concerns over Rio's water pollution will have been allayed by the time of the Olympic regatta in 2016.
They admit the quality -- and colour -- of the water in Guanabara Bay, where the sailing event will be held, is far from perfect, but believe it is improving.
"It's not as bad as we thought," Olympic 470 and world champion sailor Jo Aleh said yesterday.
She and sailing partner Polly Powrie are home for a short break, after winning the recent Rio test event, before heading to Santander, Spain, for the world championships next month.
Alex Maloney and Molly Meech in the 49er FX and Olympic silver medallist 49er men Pete Burling and Blair Tuke also won their events in Rio.
Aleh noticed the water had improved from their last visit a year ago, although quipping she had heard of sailors spotting a television set floating past at one point.
"It is a bit of a shock when you first get there. It's just the colour. It's a lot browner and a lot of that is runoff. When it rains it doesn't smell great," she said. "We were lucky because we had a lot of our racing outside the harbour which was really clean, blue water."
Whether Brazilian Olympic officials have the quality up to scratch for the Games is a moot point, according to reports which claim the state environment officials have admitted it will take more than a decade to significantly reduce the levels of pollution in the bay.
In Brazil's 2009 Olympic bid, officials promised Rio's waterways would be "setting a new standard of water quality preservation for the next generations".
However Aleh has an upbeat, and down-to-earth, philosophy about the issue: "If they keep making improvements the way they have been it'll be fine. What everyone has to remember is we are all there, all in the same water, so at the end of the day just go sailing and get on with it."
What Aleh, Maloney and Burling all agreed on was that Rio will present a demanding test in 2016.
World sailing champs
*The world championships will be held at Santander, Spain, from September 8-21.
*New Zealand will be represented in all 10 classes at the worlds.
*50 per cent of the Olympic places for Rio in 2016 will be decided at the champs.