World Cup proved that pacy attacking football is winning out in the end, say coaching experts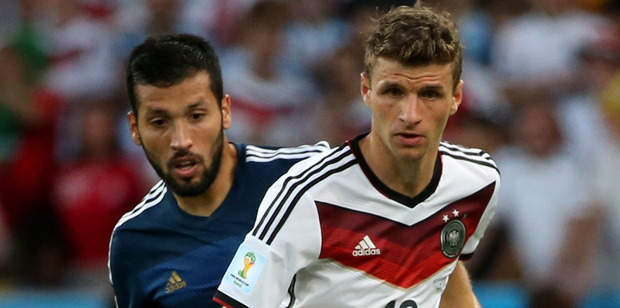 Risk-taking and counter-attacks are the new fashion in football, according to a Fifa study of World Cup teams' tactics.
"The trend is for teams to play positively and do everything to win a game rather than merely 'not lose'," Fifa's panel of coaching experts working in Brazil reported.
The best teams were rewarded for being "not afraid of losing their shape for brief moments", the 284-page document noted.
"Outstanding fast transitions and counter-attacking tactics" were praised as the most effective strategy at a World Cup which equalled the tournament record for most goals and was widely praised as the best in a generation.
It was a different story four years ago.
Then, the football was so poor in South Africa that Fifa president Sepp Blatter asked a task force to suggest ways of making football more entertaining.
Though that panel achieved little, in Brazil the teams, coaches and players rose to the challenge.
"The tempo of the game was impressive - Brazil 2014 was one of, if not the fastest World Cups ever played," the Fifa technical report said.
Other successful trends in Brazil included playing with at least two strikers, three central defenders and only one defensive midfielder.
Controversial incidents - including Uruguay forward Luis Suarez biting an opponent, and players continuing despite head injuries - were not mentioned in the document.
Teams were also rarely criticised, although Brazil are not spared after being outplayed by eventual winners Germany and the Netherlands.
"An incomprehensibly poor performance against Germany," the report said of the host nation's semifinal humbling, adding that 7-1 was "a fair reflection of the strengths of the two teams".
Fifa's coaches noted Brazil's "attacking game not quite clicking into gear and some co-ordination problems obvious in defence".
Tactically, the Fifa report said top teams no longer used two holding midfielders, which was effective in South Africa. A lone striker was also out of fashion.
"Most teams played with two strikers [if not three], and the few teams that played with one lone attacker left the competition early," the report said.
Goalkeepers like Germany's Manuel Neuer now function as an extra outfield player, and specialised coaching should reflect that, the report said.
It also suggested that playing with three central defenders was "on the rise again" thanks to the third-placed Netherlands, surprise quarter-finalists Costa Rica, Chile, Mexico and Uruguay.
Four years after Spain rode their tiki-taka passing to win the World Cup, the report noted effective use of the ball was now more important than simply having it.
In Brazil, 21 of 64 matches were won by the counter-attacking team having less possession.
"Possession play must be efficient and not sterile," the report noted, adding that 34 of 171 goals in Brazil came from "quick transition play".
"Counter-attacking tactics were once a tool in a team's armoury, but now some teams base their entire play around such tactics."
More goals than expected came from corner kicks and "remarkable" high-quality crosses, and early leads were often overturned.
"Teams that scored the first goal were at times too confident and too sure of themselves," the report said.
Defensive tactics included aggressive pressing to get the ball in the first 15 minutes, and holding a back line at least 40 metres from goal. "Teams defended in a compact block in a high line and overloaded the area where the ball was," the report said.
Costa Rica and Algeria were praised for making progress, and so was the Concacaf region which also had Mexico and the United States reach the second round.
"Good development work has seen the gap between [Concacaf] teams narrow, which automatically means that there is healthy competition and an improved standard of football."
"Europe can be more than happy with their performance at Brazil 2014," the report said, after winning for the first time in the Americas.
The four winless Asian confederation teams "lacked creativity, ideas, penetration and players who could turn a match in their favour".
Fifa's experts also hoped the World Cup would encourage a generation of unselfish players to put their team first.
"Individual skill can only be effective if it is in sync with the efforts and philosophy of the team."
- AP