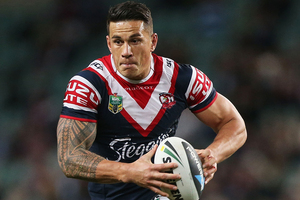 Sonny Bill Williams has hinted at a third spell in the NRL after he completes his two-year contract with New Zealand rugby at the end of 2016.
The Sydney Roosters' back-rower will return to the Chiefs at the end of this season and is certain to be part of the All Blacks' squad who will defend their World Cup title next year in England.
He will also be in contention for selection for the All Blacks sevens team at the Rio Olympic Games in 2016 and resuming his boxing career, but he has left the door ajar for a return to the NRL as well.
"Last year, when I came back to the game, I didn't think I would be staying for two years or winning a competition," Williams said. "Anything is possible. It just comes down to hard work and that self-belief. Of course, there is always a chance [of returning] but I am 29 now.
"My missus always says I am getting older and older. She has to put those baths on for me after games now."
Williams has been a resounding success for the Roosters since returning last season to the game he walked out on in 2008 and he admitted it had gone better than he had imagined.
"I have really enjoyed my time back here -- not just on the field but off it as well," he said.
"I feel I have earned a lot of respect back and that was probably one of the main things I wanted to do. Not just play good consistent footy but earn a bit of respect back from the footy community. I feel like I have achieved that."
NRL head of football Todd Greenberg, who fell out with Williams when he was in charge of the Canterbury Bulldogs after the star's sudden mid-season departure for French rugby, said he would like to see him return.
"His maturity is unbelievable," Greenberg said.
"He is an amazing athlete and an amazing person. He is a fantastic person to have in the game."AAP