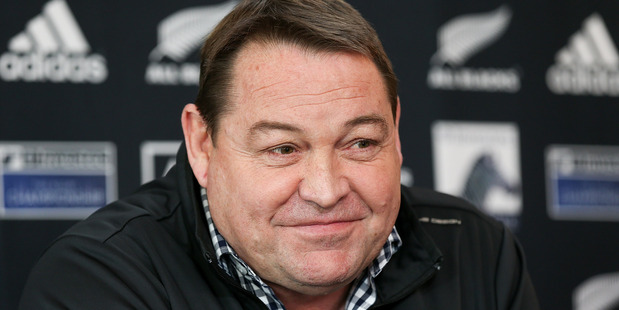 There has been a lot made about Steve Hansen being a loyal selector. Which he is - but not blindly or to any individuals as is often suggested.
He's loyal to one governing principle - do what is best for the team. This is the first and often the only question the players and coaching staff need to ask in regard to decisions they make: Was it the right one for the team?
Life needn't be any more complicated than that, which is a big reason why Hansen has such a good rapport with his players and is held in such high esteem.
He's true to that objective of making sure everything benefits the collective - hence the decision to pick Ben Smith at fullback and leave Israel Dagg out of the match day 23.
There would have been several specific factors that enabled him to feel confident the decision was best for the team.
Smith has become a critical part of the All Black machinery and at fullback, he's able to inject himself into the game more regularly and have a greater impact.
Bottom line - the All Blacks looked a better team when Smith played there than when Dagg did. With Smith at fullback they were better able to transition from defence into counter attack.
Smith took them further past the gainline with his kick returns, opened up more space with his running and perhaps because of his confidence being that bit higher than Dagg's, he made better decisions.
As a consequence, the back three gelled a little better; ran more effective lines and their timing was that little bit sharper.
On a direct one-on-one comparison, Smith's work under the high ball is on a par with the excellence Dagg delivers. Smith's defence is a bit more secure, his line-breaking more regular and work rate that little bit higher.
The selectors would have been wary about losing Dagg's booming right boot, but Smith has a passably good kicking repertoire.
But perhaps the real nub of this came down to credibility. Smith was brilliant at fullback against England. As was Julian Savea, while Cory Jane, having been asked to raise his game in Hamilton, did that and more. Having done everything asked of them, it would be disingenuous of Hansen to then drop one of them to make way for Dagg.
Where would his credibility be if he did that? What would the players think if they performed out of their skins as Smith, Jane and Savea have, to not then be retained en masse?
Competition for places has to be real and the players need to feel they have earned their fate one way or another. That's what's best for the team and on that basis, Dagg hasn't been able to find a spot.