All Blacks see their kicking game as key to keep Wallaby fullback guessing.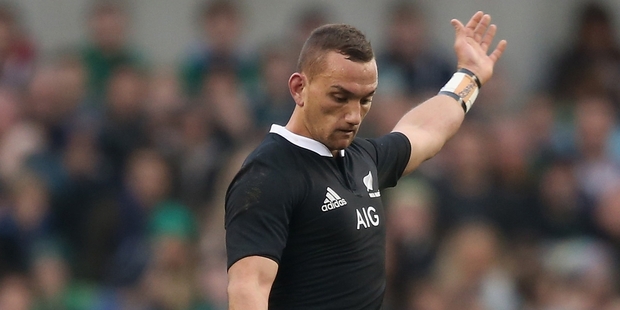 Expectations are high that the opening Bledisloe test will be dominated by ball-in-hand rugby, yet the All Blacks believe their kicking game holds the key to victory.
Much of the All Blacks' focus this week will be on formulating a plan to nullify the running threat of Wallaby fullback Israel Folau by putting him under pressure with the accuracy and variation of their kicking.
Let Folau run and he could damage the All Blacks. Virtually win the test on his own. But what if he can be moved around - forced to run endless metres and then clobbered behind the gainline or swallowed by a rushing All Black pack?
Folau is Australia's best attacking weapon which is why the All Blacks' main kickers - Aaron Cruden, Beauden Barrett, Aaron Smith and Israel Dagg - have been spending considerable time on analysing the movements of the Wallaby fullback and back three.
"Has to be on the button," said Barrett of what is required by the All Blacks' kickers. "We have to be really precise. A lot of work is going into understanding where they [Australia's back three] might be positioned. We are trying to get a step ahead of them. But the kicking game will be huge this week."
Folau was infallible during Super Rugby, catching almost everything while frequently capitalising on poor kicks or a poor chase. But when asked if the All Blacks had seen ways in which to move Folau around and put him under pressure, Barrett said: "We have but we will keep that to ourselves."
The All Blacks' ability to turn opponents, tie them up in dark corners or win back possession in the air has become one of their key and underestimated weapons in the last 18 months.
It was a part of their game head coach Steve Hansen wasn't happy with in 2012 and placed considerable emphasis on last year. His overall vision was to create a triple threat attacking game where the All Blacks can pass, run and kick.
The last component has often been used as their main weapon: the accuracy of the All Blacks' kicking and chasing was the foundation of the 30-0 against France. It was at the core of their 29-15 defeat of South Africa and again in the 38-27 win at Ellis Park.
It often appears as if the All Blacks do all their damage with their pass and catch but it is the pressure they exert with their kick-chase and the mistakes they force which is regularly the foundation of their success.
They have also become one of the better teams in world rugby at defending opposition kicks and turning them into attacking opportunities.
The Wallabies learned that the hard way in the 2011 World Cup semifinal when they bombarded the All Black back three all night and saw Cory Jane, Richard Kahui and Dagg mop up everything that rained down.
The Wallabies haven't played like that since. In the last six tests against the All Blacks they have tended to run from deep, play with width and keep the ball alive. All Blacks assistant coach Ian Foster isn't expecting much different on Saturday.
"They have got a nice balance to their game," he said. "They don't kick much. If you look at their test series in June and on the end of year tour they are not a big kicking team, they are more of a retention team. When they do kick they try to make it meaningful: it's either because they are under a lot of pressure or it is for tactical reasons.
"They can kick, they can kick well but it is not their primary focus."
Season-one wonder
Israel Folau's 2013 Rugby Championship
Tries: 5 (2nd)
Metres: 344 (2nd)
Clean breaks: 6 (5th=)
Defenders beaten: 18 (2nd=)
Offloads: 9 (1st=)
Carries: 46 (6th)