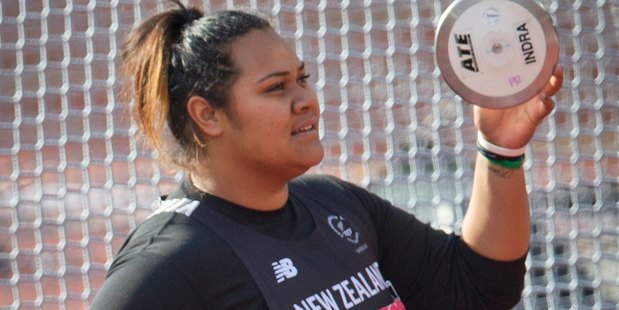 New Zealand's most promising field athlete, Tina Hakeai, finished just outside the medals in the biggest event of her young life tonight.
The Auckland discus thrower ended up fourth with a best effort of 58.67m, .98m behind her season's best effort, which is also her personal best.
Former world champion Australian Dani Samuels won the gold with a throw of 64.88m, which she achieved with her third throw.
India's Seema Punia and England's Jade Lally won the minor medals, each producing season-best throws.
Lally's 60.48m won her the bronze. Had Hakeai managed her personal best it still would have got her no higher than fourth.
''It wasn't the result I wanted but I wasn't far from my PB and can't complain," the 1.82m 20-year-old said.
''It is my first Commonwealth Games, I'm the youngest in the field and all I know is there's a lot more to come from me. I'll take this as a learning process and work with it."
Hakeai admitted she was ''nervous as hell" when she got out to the throwing area - ''when I grabbed the discus my hand was shaking."
But she'll benefit from the experience, and having tips to absorb from her room mate at the Games village, multi shot put champion Valerie Adams.
In other action, Kiwi high jumper Sarah Cowley finished ninth in the women's high jump final.
Cowley's best jump was 1.86m. She then failed three times with the bar at 1.89m. Her season best this year is 1.89m.
The gold medal went to Eleanor Patterson of Australia, who managed a season best 1.94m.
England's Isobel Pooley chose a good time for her personal best - her 1.92m winning the silver medal - while St Lucia's Levern Spencer won bronze at the same height.

Meanwhile, New Zealand's 4 x 400m women's relay team broke the national record by over a second.
The quartet of Portia Bing, Brooke Cull, Zoe Ballantyne and Louise Jones finished 10th overall of the 12 nations, recording 3min 34.62sec.
The previous national record was 3:35.90, the time they produced to qualify for Glasgow.
The New Zealanders finished sixth in their heat, which was won in 3:27.88 by England - who were fastest qualifiers - and failed to advance to the final.
Jake Roberston finished seventh in the final of the men's 10,000m with a time of 28min, 03.70secs.
Uganda's Moses Kipsiro won the gold medal in a tight finish, with only .3 of a second separating him from Kenya's Josphat Bett. Canada's Cameron Levins claimed the bronze medal.
Angie Smit came fifth in the final of the women's 800m, while fellow Kiwi Nikki Hamblin finished seventh.
Kenya's Eunice Sum won the gold, with Scotland's Lynsey Sharp taking silver, and Uganda's Winnie Nanyondo claiming bronze.