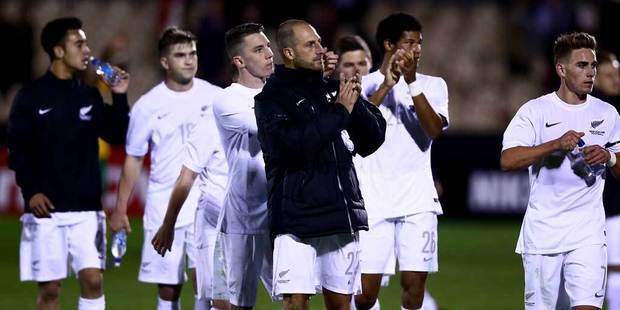 New Zealand Football have made Anthony Hudson a formal offer to become the new All Whites coach, according to the Bahrain Football Association.
The 33-year old Englishman, who has been described as a "young Jose Mourinho", is currently the coach of the Bahrain national team but has submitted a letter of resignation to the BFA following NZF's proposal, signalling his desire to switch allegiances to New Zealand.
The BFA last night released a statement calling for an urgent meeting of their governing council to discuss Hudson's request, which is expected to take place tomorrow.
Hudson signed a two-year contract with Bahrain in February and was expected to lead them at November's Gulf Cup and January's Asian Cup. NZF had hoped to unveil him as their new coach this week and begin planning for their international against Uzbekistan on September 8.
A three-man shortlist had been selected by NZF for the vacant position left by Ricki Herbert last November, and Hudson was the preferred choice over two Australians - former Australia and Sydney FC coach Frank Farina and ex-Newcastle Jets coach Gary Van Egmond.
NZF high performance manager Fred De Jong said they were currently in an 'employment process' and were unable to comment on any developments.
Hudson is one of the youngest ever to earn a UEFA Pro Licence - the highest coaching qualification in the world - but his appointment could be construed as a big gamble for NZF, based on his lack of experience coaching at a professional level.
He took charge of his first team, Real Maryland of the second tier United States League, at the age of 27 and after two years moved to Welsh Conference side Newport County, where he was sacked within six months.
He has spent time learning from some of the world's leading managers including Argentina's Marcelo Beilsa at Atheltic Bilbao, Harry Redknapp at Tottenham who labelled him 'a young Jose' and then Mourinho himself at Real Madrid.
In 2012 he was appointed coach of Bahrain's Under-23 and Olympic team, and guided them to the U23 Gulf Cup of Nations title before being promoted to the senior team in August last year.
Despite not having a coach, a number of All Whites have been notified they may be required for the friendly with Uzbekistan next month, though it's not clear who is selecting the wider squad. A 20-strong squad is due to be named on August 8 and they will assemble in Doha on September 1 to prepare for the match a week later. The fixture falls within a Fifa window, so first-choice players should be available.
New Zealand A also have a match scheduled with the Wellington Phoenix on August 17 in Taupo.