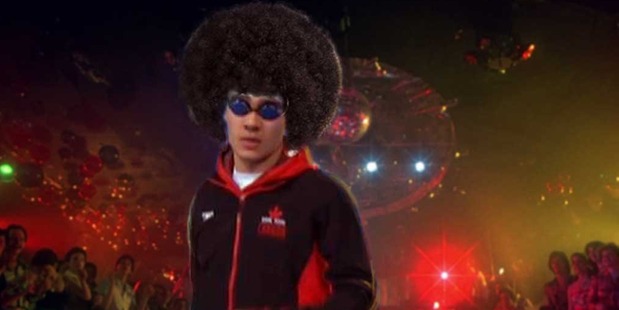 Daily Shorts takes a lighter look at the Glasgow games, tackling the important issues like "Can Richard Funk?', and highlighting the best, if clumsy, fan involvement
The 2014 Commonwealth Games have thrown up many important questions over the past week, like "Is there a worse sport to watch than shooting?", "Did Prince Harry just photobomb Sir Gordon Tietjens?" and "How exactly is Australian table tennis player Miao Miao's name pronounced?"
But perhaps the biggest mystery has surfaced over at the pool, regarding Canadian breaststroke swimmer Richard Funk and his latent ability to slap the bass.
The collision of his name and his nationality left one Redditor scratching his head over whether or not Richard can funk, though another pointed out that "With a cap like that and goggles like those, how could Richard NOT funk?"
Eventually the question was answered thanks to some quick photoshopping (above):
Funk finished a solid sixth in the Mens breastsroke.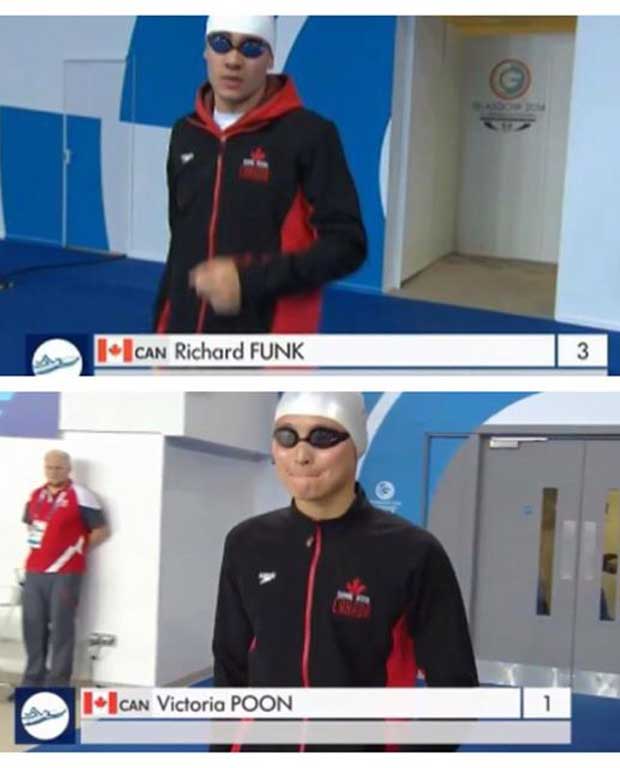 Here are our 'Best of the Games' awards.
Best fan involvement
The best fan performance of the Games came from this enthusiastic child and his dream to run alongside the leading pack of Kenyan marathon runners.
After a good start with terrific acceleration, the child had around a dozen powerful paces before eating the concrete in a ball of embarassment. Just tremendous stuff.
Mobile users click here for video
Best celebration
It might not have been gold, but Ojo Onaolapo was so delighted with his bronze medal at the Commonwealth Games he pulled his shorts down.
The Nigerian table-tennis player had just secured victory over India's Sharath Kamal Achanta to win his team the last remaining medal in the table-tennis tournament.
At the conclusion of the match the 19-year-old rolled onto his back in delight before being carried around the Scotstoun Sports Campus venue by his team-mates.
But they weren't finished there, as his team-mates jigged around with arms raised, Onaolapo went a step further by pulling down his shorts and lifting his t-shirt.
Best rally
The best point of the Games came in this incredible 41-shot table tennis rally won by Nigeria's Segun Toriola.
Toriola went on to lose the match, but he will certainly have a moment to look back on as this rally went viral after the match.
Singapore's Gao Ning laid down his offensive game as he went on the attack, pushing Toriola further and further back from the table.
It was the rally that didn't want to end, but Toriola stayed strong, and ultimately won the point when Gao Ning slammed a forehand shot long over the table.
Gao Ning might have lost this battle, but he did ultimately win the war as the man ranked 12th in the world won the match.
Mobile users click here for video
Best flag: Isle of Man
Everyone needs a team, so I'll be supporting the Isle of Man in the commonwealth games. pic.twitter.com/7kAkppLvlR

— Dave Vitty (@davidvitty) July 23, 2014
Best diver: Still Robben
Not sure this latest competitor in the diving is from the Commonwealth but he's very good... #Glasgow2014 pic.twitter.com/ri20vL9qSj

— Virgin Media Loves (@VMLoves) July 30, 2014