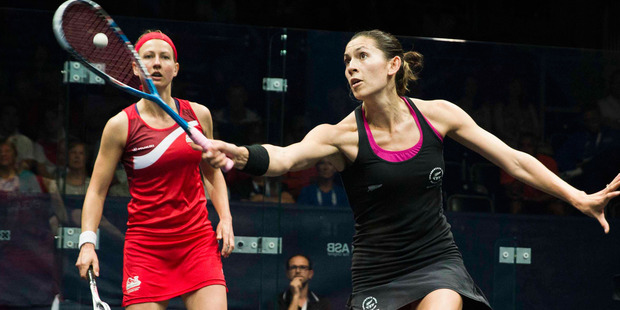 Joelle King completed a full set of Commonwealth Games medals when she won the singles bronze medal today.
World No 4 King comfortably beat world No 6 Alison Waters of England 11-7 11-7 11-5 in 42 minutes to produce New Zealand's 22nd medal of the Games.
It follows her gold and silver medals won in the women's doubles and mixed doubles respectively at New Delhi four years ago.
''Obviously it would have been nice to come away with the gold, but it's great to have a medal," Cambridge's King said.
''All week I've reflected that I have played some really good squash and on a stage like this, it's our pinnacle. I'm absolutely over the moon."
King knew Waters had had a tough semifinal the previous day against countrywoman Laura Massaro. Keeping her moving early was part of the plan.
''I knew I had to go out and make her work hard for very point and make her feel my presence on the court.
I kept the pedal to the metal today, stayed focused and I'm really pleased."
Having won the first two sets, King bolted to a 4-0 lead before Waters made some progress back. The win was sealed with a backhand drive down the line.
King waved her arms and blew kisses to the crowd, which included her mother and husband, after the win.
She now gets back into doubles action tomorrow, with partner Martin Knight in the mixed doubles - looking for more success after New Delhi - and Amanda Landers Murphy.