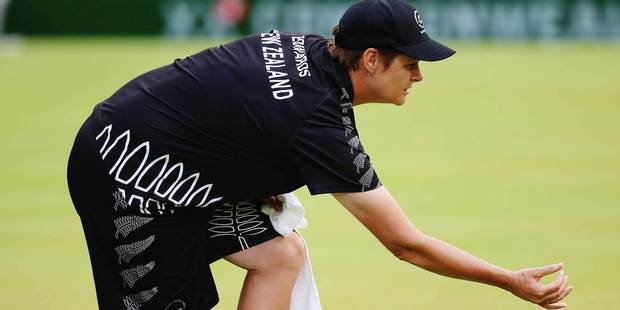 They call her the unofficial world No 1 player, and Jo Edwards demonstrated her class with a gold medal performance at the Kelvingrove bowling green today.
Edwards raced out to a 13-1 lead against defending Commonwealth Games champion Natalie Melmore of England, then withstood a fightback by her opponent to win the gold medal match 21-15.
When bowls bosses gave away the idea of trying to rank the game's best players, being unable to find a fair system, the Nelson bowler just happened to be at the top of the rankings.
She tends to play it down, but when she produces quality performances like today, a strong argument can be made that Edwards is indeed the game's best.
"It's a very, very proud moment," she said tonight.
"A hell of a lot of hard work has gone into this campaign. I've probably worked harder than for any other."
Melmore beat Edwards' great mate, and pairs partner, Val Smith, in the final four years ago. This time Edwards made no race of it, although Melmore didn't go down without a fight.
"I got off to a flier and Natalie struggled early on, but I knew she wouldn't for the whole game," Edwards said.
"She played really well in the second half."
Edwards' win capped a strong day for New Zealand after the Mandy Boyd-led four won the bronze medal, beating hosts Scotland 21-15 in a dramatic finish, when Boyd's spot-on drive put the jack in the ditch to secure the game for New Zealand.
Add in that the men's triple bowed out of contention on the final shot and the pair were unlucky to run into a formidable Scottish pair, and Edwards reckoned it was a hugely encouraging first half of the competition.
"We can go in with a heap of confidence," she said of the pairs programme.
"Val is playing really well," Edwards said.
So is she. New Zealand start off against Kenya in the morning. The prospects are bright for more success.