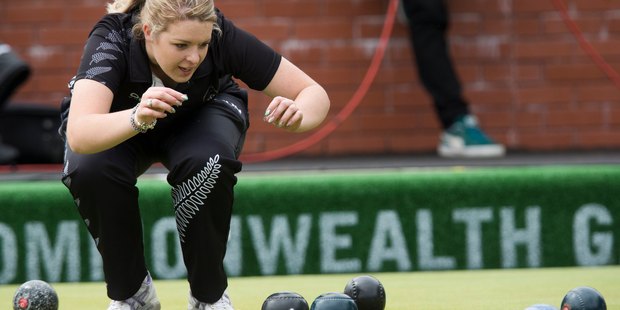 Mandy Boyd showed she possesses the right stuff today in delivering a bronze medal for her team in the women's fours at the Commonwealth Games.
When Boyd opted to drive her final bowl - with New Zealand leading 16-15 but four shots down - it worked a treat.
She drove the jack into the ditch and New Zealand had a 21-15 win and their first medal of the bowls event.
South Africa beat Malaysia 14-9 to win the gold.
Boyd, 22, was skipping a youthful team, with 19-year-old Selina Goddard as lead, 22-year-old Amy McIlroy and veteran Val Smith in the middle positions.
But youth can be fearless and the New Zealand team were well worth their win, having had their noses in front most of the way over the 15 ends.
''It feels unbelievable, a priceless moment, just perfect," said McIlroy, whose husband, singles player Shannon, was looking on, and shouting the odd word of encouragement in the form of a nickname.
''I totally had confidence in Mandy. Never had any doubts she'd make it."
Goddard, the last woman to force her way into the Games team, had high praise for the skip.
''She was playing out of her tree in that game. She's an asset with that drive she's got and we're really fortunate to have that."
Then it was off for a good night's sleep before the three young players prepare for the start of the triples tomorrow. Smith joins good friend Jo Edwards in the pairs, also starting tomorrow.
Boyd admitted the last end was ''a tricky one".
''It was building up against us. Being down gave me extra confidence to play the drive.
''I might have opted to draw my second (the team's last) shot.
''I might have opted to draw it but it was a bit hard to draw so the drive was the only option."
The team bounced back impressively after losing their semifinal in the morning, and the chance for the gold medal. They were beaten 13-11 after being up 8-5 after seven ends.