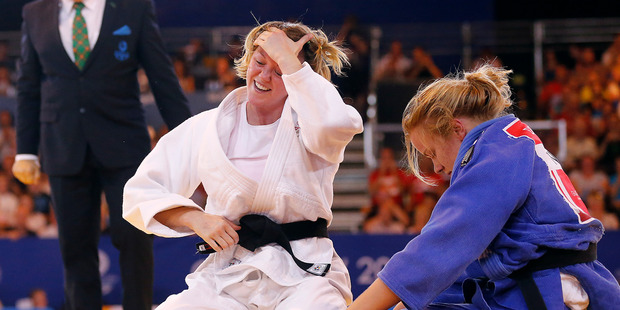 It is difficult for Moira de Villiers to see the bright side after being forced to settle for silver at the Commonwealth Games.
But, amid the disappointment, the Kiwi judoka can acknowledge her team's efforts in Glasgow have been invaluable for the future of the sport in this country.
Like most minor pursuits at these Games, judo has a hard time in a nation with a narrow focus, sporting-wise. Fans, funding and media attention are all hard to come by, with the chance to steal some spotlight every two years one that cannot be squandered.
And it's even more imperative for judo to make the most of the opportunity, considering it has appeared at only three Commonwealth Games since its debut in 1990, with success from the 11-strong team in Glasgow crucial if the sport wishes to gain a foothold in New Zealand.
So far, so good. The Kiwi team claimed three medals from the first two days of competition, earning a pair of silvers yesterday morning, and that's before No 1-ranked Ryan Dill-Russell and Jason Koster even entered the arena.
But de Villiers, understandably, had mixed emotions after her loss to England's Megan Fletcher in the under-70kg class.
"I'm a little bit disappointed, but it's a stepping stone in the big scheme of things," she said after being the victim of an ippon early in her bout.
"We're fighting hard people from all over the world and we're holding our own. We're not a small country to just push aside."
De Villiers felt especially aggrieved after the aggressive performance she sought was absent, replaced by a "silly turnover" that cost her both the match and the chance to win New Zealand's first judo gold medal in 24 years of competition.
"My aim was obviously gold," she said. "I was disappointed in myself [at a recent European Cup event] in Germany when I got a bronze, and that was coming from a win.
"The final's a hard one when you get a silver because you've lost your last fight, so that's mentally the hard part at the moment."