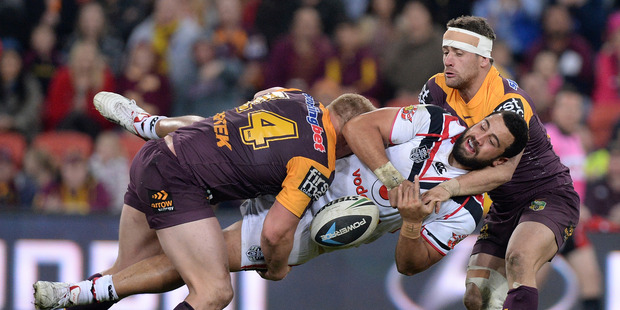 Saturday night's loss to the Broncos was obviously disappointing but it has not dented our confidence after a solid couple of months where we showed plenty of improvement in our game.
The match started well for us and we went 12-0 up early on but fell away a bit to let the Broncos take the halftime lead. We came back again in the second half and put ourselves in a position to win the game but we needed to play a little smarter at times and hold on to the ball more.
We have played really well as a team in recent weeks and we let ourselves down with a few too many errors and missed tackles, while the Broncos played with desperation and took their opportunities when it mattered.
They were terrific in defence - Sam Thaiday's effort to stop Feleti Mateo from scoring was a massive tackle, and earlier in the game Josh Hoffman did a great job in holding me up close to the line.
We certainly won't dwell on the result and we have a great opportunity on Sunday to test ourselves against the best team in the competition in Manly. It will be a tough challenge but it isn't all about the Sea Eagles. We are not about to roll over because we lost one game and they will certainly have to work for it if they want the result.
There has been a fair bit of talk recently about us being potential underdogs for the title but we don't read too much into any of that. At the start of the year everyone was writing us off and we didn't take any notice then, and it is the same situation now. We have our own goals and standards that we set and we know what we want to achieve each week.
Our scrummaging ability has attracted plenty of attention over the past week and even though I was able to snatch a try from a push-over against the Eels, I don't think it will work again any time soon. Even on Saturday night, each time we arrived for a scrum the Brisbane boys were saying "watch the push", so we'll have to put that in the back pocket for a while.
Personally, I have been pleased with my own progress over the past couple of weeks and feel things are starting to come together nicely. My game has been improving, along with a number of the other boys, and that has helped the team to perform more consistently.
I came here expecting to show my best form and the challenge for me now is to produce that week in, week out. There are still areas for me to work on and hopefully I'll be getting better come the business end of the season.