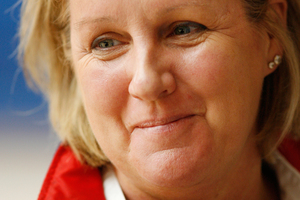 Two of the five New Zealand transtasman league franchises will be coached by Australians next season after the Tactix today announced the appointment of Sue Hawkins to the head coaching role.
Hawkins, a former Australian international who previously coached the Auckland Diamonds in the old domestic league, joins Magic coach Julie Fitzgerald at the helm of Kiwi franchise in a move that is certain to raise questions over the depth in New Zealand netball's coaching ranks.
The appointment of Hawkins was approved by Netball New Zealand following an unanimous decision by the Netball Mainland board.
Hawkins will take over from Leigh Gibbs, who stepped down at the end of the 2014 season after three years at the helm of the Canterbury side. With the Tactix finishing at the bottom of the ANZ Championship table for four of the past five seasons, Hawkins' faces a massive task to turn around the struggling franchise.
A shooter in her playing days, Hawkins played 28 tests for Australia in the 1980s (including the World Champion 1983 team), and was Netball Australia's first appointed High Performance Manager in 1999. Following her stint in Auckland, Hawkins took over the reins of England in 2007, she coached the team to a bronze medal at the World Netball Championships 2011 in Singapore.
Netball Mainland chief executive Brigit Hearn says they are delighted to have secured someone of Hawkins' calibre. "Sue's experience and capability speaks for itself and we are confident she has the skills to continue to build on the great work of former coach Leigh Gibbs," Hearn said.
"The Board collectively felt we needed a new emphasis with an infusion of fresh ideas and a focus on getting the results we know the team are capable of and we believe Sue is the one to take us there," she said.
"Sue has extensive experience in developing and executing a winning team culture and will lead with presence and confidence. In addition, she is also keen to work with, mentor and develop coaches in our Zone."
Hearn said Hawkins' coaching experience both nationally and internationally couldn't be overlooked.