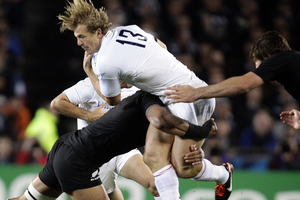 A dozen armed men attacked French rugby union internationals Aurelien Rougerie, Julien Pierre and Benjamin Kayser with machetes as they walked back to their hotel at night, their club, Clermont, said on Sunday.
Pierre, who with Rougerie was in the French team that lost the 2011 Rugby World Cup final, was to undergo surgery on "deep cuts" to his hip, the club said.
All three were rushed to hospital after the attack in the southern town of Millau, but none had life-threatening injuries.
"As they walked back to their hotel overnight Saturday, a group of players was assaulted by a dozen people carrying weapons including machetes, sabres," the club said.
The players were briefly staying in Millau before leaving for a training camp.
Police said the incident took place around 3am after the players went to a nightclub, where they may have argued with other revellers.
"The entire club is deeply shocked and outraged by these acts and will bring all the necessary support to local authorities who have launched a probe," Clermont's statement said.
Rougerie, 33, is Clermont's captain and has 77 caps for France. Kayser, 29, has played 24 times for France and Pierre, 33, has 27 caps.
- AFP