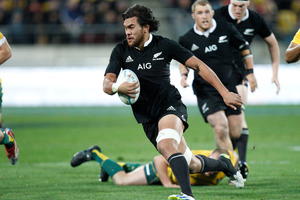 University are disappointed red tape will prevent their All Black Steven Luatua from playing in today's Auckland semifinal against Ponsonby.
After being given the all clear by All Blacks coach Steve Hansen, Luatua attended training this week in the hope of being available for this afternoon's match at Colin Maiden Park and, potentially, next weekend's final, but confusion over his registration with the Auckland Rugby Union will keep him on the sidelines.
He would have played lock which means his forced unavailability today will prevent a match-up against Blues and All Blacks teammate Patrick Tuipulotu, who has been given the all-clear to play for Ponsonby.
"Steven turned up on Tuesday off his own bat, saying he wanted to be around the boys and play, which I thought was great, an All Black coming back to grassroots rugby," University coach Dean Bickerton said. "He fitted in straight away, trained hard, but now we've come up against this bloody paperwork and Auckland Rugby are sticking by their guns and won't let him play.
"We'll get on with what we've been doing, but it's a situation where you've got All Blacks coming back down to club level, which everyone wants to happen, but they get stopped from doing it which is crazy, I think.
The ARU's club rugby manager, Lewis McClintock, said yesterday the issue was down to University failing to register Luatua in time.
"Our rules of competition dictate that all players must be registered to play before they take the field and the last date cut-off for registration is the last Friday in June," he said.
"Obviously the rationale for that is to stop players coming from here, there and everywhere coming into clubs for the pointy end of the season."
However, University club manager Steve Kidd said the ARU's online registration system prevented Luatua from being registered earlier. He said the club registered their Blues players Luatua, Jerome Kaino and Luke Braid on the same day last week.
"Previously we weren't able to access his [Luatua's] details and register him. We were able to this last week and we front-footed it and went to Auckland Rugby and said 'okay ... we've registered him. We know we're after the date, are you willing to make an exception for him', and they said 'no'.
"It's a real shame, it's something our club members were looking forward to and I'm sure the guys playing with him and against him we're looking forward to as well.
"It's a very rare occurrence to have guys of that calibre playing for their club and in such an important game as well."