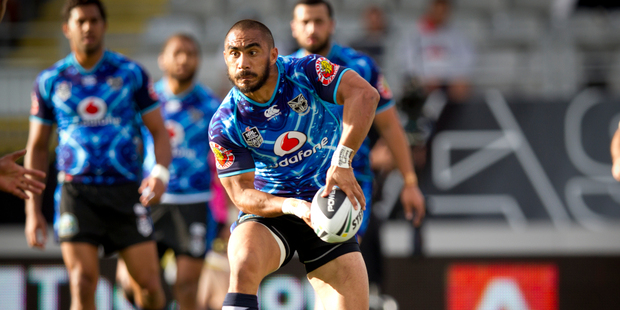 Dynasty is a pretty big word in sport but I really think Andrew McFadden is on his way to establishing one with the Warriors.
What he has done to turn around the club's fortunes in a short time is nothing short of remarkable. They have won seven of the last nine games, have the best attacking record in the league and have dropped the average number of points conceded a game down from 26 to 19.7.
Fans have every reason to start getting excited about what this team might be able to achieve.
McFadden is a results-based coach who seems to get the best out of individuals. He sets high standards and players are held accountable. If they don't perform, there are consequences and, on the flip-side, players are rewarded for good form.
This weekend, for instance, Agnatious Passi has won a place in the first-grade squad because of what he's done in the NSW Cup side.
McFadden isn't afraid to make changes, isn't satisfied, even though his side are coming off the back of the 48-0 drubbing of the Eels.
Players often talk about his hard-nosed approach at training and the fact he pushes them. For years we were told Polynesian players didn't react well to this sort of approach. Well, I think we can dispense with that theory now.
One thing I worry about with McFadden is the possibility for him to burn out. I'm told he works extremely hard and spends considerable time focusing on the other squads at the club. He's often found analysing and talking to the under-20s players and telling them what he expects and needs out of them.
Coaching a first-grade side to success is hard enough, let alone for one in his first few weeks of a head coaching role. Remember, it wasn't long ago McFadden was trying to impress on the Warriors owners and management he was worthy of a full-time contract.
One of his biggest problems is keeping his side focused and grounded. Players can see the rewards for their efforts and are enjoying the ride they are on but it's all too easy for them to start to believe they are a good side - it's been a problem for the Warriors throughout their existence.
They haven't achieved anything yet. If anything, they need to lift things even more because they are coming into the crunchy part of the season when other teams also lift their games.
I tried not to look at the table as a player. It's nice to see where you are sometimes but you can't get bogged down on permutations because it distracts you from what you need to do. They shouldn't be thinking about finishing the regular season fourth, third or whatever.
The only thing that's important is individual and collective performances and the results will take care of themselves.
It's really important Sam Tomkins gets back on the field soon, especially after the club let Kevin Locke go to Salford early. Fullback is such an important position and, as accomplished as David Fusitua has looked, moving from wing to fullback is a massive mental change.
Injuries can derail a side and it would be a shame if they hit the Warriors.