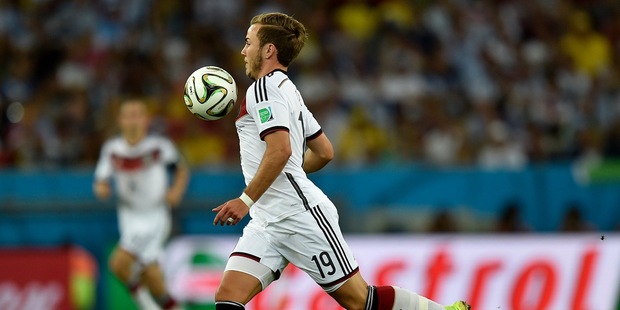 At a World Cup where substitutes have made more impact than ever, it was fitting Mario Gotze came off the bench to win it, and another replacement supplied the perfect cross.
Gotze's extra-time goal to beat Argentina and win the cup was the 32nd scored by a substitute in Brazil.
The previous best, 23 at the 2006 World Cup in Germany, is not even close.
Coming on in the 88th minute to replace Miroslav Klose, Gotze's two shots on target matched teammate Toni Kroos who played the full two hours. It was also as many as Argentina managed all night.
Even the cross for Gotze's beautifully balanced winning strike came from another substitute, Andre Shuerrle.
"I said from the start that 14 players have to be on the alert, that they have to be ready at all times," Germany coach Joachim Loew said.
Teams who used their squads well - such as the third-place Netherlands and quarter-finalist Belgium - got their rewards with strong finishes and crucial late goals.
"Tonight you could see at the end that Argentina was getting more and more tired and that we have players like Schuerrle, who can make searing runs," Loew said.
Still, Loew's use of 18 of his 23-man squad across seven World Cup matches is almost conservative compared to Louis van Gaal and the Netherlands.
Van Gaal ensured he gave playing time to all 23 players by sending on goalkeeper Michael Vorm for the closing minutes of a 3-0 win over Brazil in the third-place playoff on Sunday.
An earlier Dutch goalie replacement entered World Cup lore as a match-winning substitute.
Tim Krul played only a couple of minutes of extra-time in a 0-0 quarter-final draw against Costa Rica but that got him into the penalty shootout, and his two spot-kick saves were decisive.
Fifa will look at changing the rules of football to allow a fourth substitute in extra time. The 32-goal tally from the bench could be under threat in 2018 in Russia.