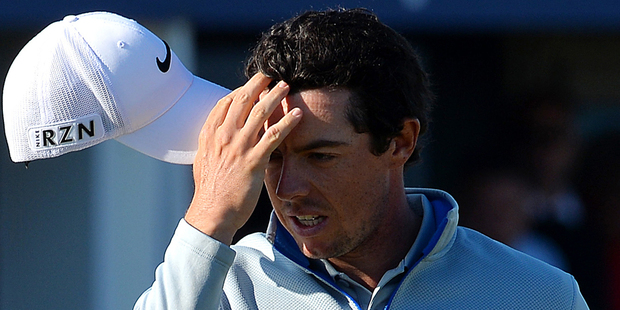 Rory McIlroy's second-round curse struck again as the double Major winner slumped from an overnight one-stroke lead to be trailing by six shots on day two of the Scottish Open.
After setting a course record of a seven-under-par 64 in the first round, McIlroy returned to the stunning Aberdeen links where he stumbled his way to a seven-over 78, dropping back to a share of 34th place at level par.
Three players - Sweden's Kristoffer Broberg (71), Scotland's Marc Warren (69) and Argentina's Ricardo Gonzalez (71) - share the lead on six under.
However the 44-year old Gonzalez, a four-time European Tour winner, had to call a penalty shot on himself when he found bushes down the final fairway and when leading by two shots.
Gonzalez eventually walked off with a double bogey as he looks to a first win in four years.
McIlroy had confirmed his status as British Open favourite on the opening day in muscling his way to a one-stroke lead at his first Scottish Open since 2009.
However, on Saturday in bright but windy conditions, he carded just one birdie at the sixth with six bogeys and a 12th hole double-bogey where he found a greenside bunker and took two shots to find the green.
"I would be happier standing here after shooting a couple of 71s but that's not the case," he said.
"I am still in the tournament and can go out there in the morning and get a few of those shots back I lost.
"And this [second round] thing, and having to talk about it, as it's always being brought up. It's sort of in my mind and maybe I put myself under even more pressure and instead just get off to a decent start and shoot a good score."
- AAP