Absence of inspirational Neymar and defensive rock and captain Thiago Silva doesn't really explain collapse of hosts in the face of European juggernaut before millions of disbelieving eyes around the globe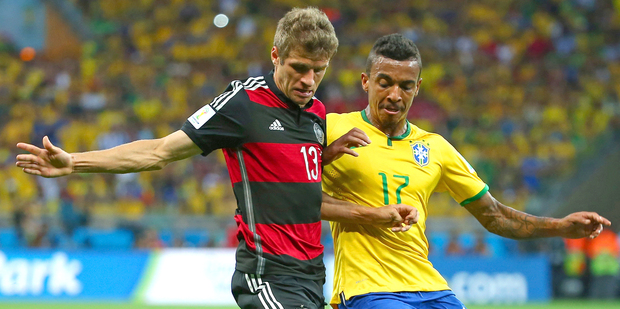 Even for an 84-year-old tournament drenched in history, Germany 7 Brazil 1 will be remembered as one of the craziest World Cup matches ever. Because of the humiliation it inflicted on a great footballing nation, it will go down as one of the most painful to watch, too.
Brazil, the once mighty Brazil, the Brazil that gave the world Pele, so many other great players and yellow-shirted delight, throwing themselves like lemmings off a cliff. Not just a team self-destructing, but an entire nation's hopes and World Cup joy turning to vinegar and flushing down the drain on live TV before millions of disbelieving eyes around the globe.
Read more:
• Kiwi punter picked 7-1 scoreline
• Klose's record compounds Brazilian misery
• Michael Burgess: A truly woeful display
• Brazil thrashed: How the world reacted
"We realised that they were cracking up and took advantage of it," said Germany coach Joachim Loew.
Even the halftime score — Germany 5 Brazil 0 — was something no sportswriter ever expects to have to record for posterity. No nation has ever done anything like this to Brazil, not once in all the decades Brazilians have played and refined football, making it futebol and making it better.
Germany's goals rained in so thick and fast it became a struggle to keep up. The second and then, a minute later, the third goal had the effect of a stun-gun on Brazil. Their players were labouring under such pressure to win their home World Cup. And when it became clear in that minute that they would fail, that pressure became like poison on their brains and legs. In the next five minutes, they let in two more.
Video: Brazil humiliated by Germany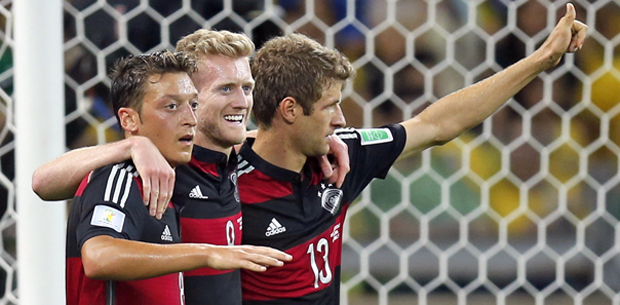 Germany's goals rained in thick and fast. Photo / Getty Images
For Germany, it was like shooting fish in a barrel. With Brazil gone Awol, they had the place to themselves. In the crowd, fans' tears cut streaks through their yellow and green face paint. An elderly man clutched a plastic imitation World Cup trophy as though it was a life preserver.
"Truthfully, it's very hard to explain the unexplainable," said Brazil goalkeeper Julio Cesar. "A blackout happened that no one was expecting."
Brazil coach Luiz Felipe Scolari apologised to fans, saying the "catastrophic" defeat marked the "worst day" of his professional life.
"I have to apologise for the negative result, for not being able to reach the final as we all wanted," he said.
"I know I'll probably be remembered for losing 7-1 to Germany, for Brazil's worst loss. But it was a risk I knew I was taking. I have to take responsibility for it. Life must go on for everybody."
He said there were "no excuses" for what happened, not even the absence of star striker Neymar, ruled out of the tournament with a fractured vertebra against Colombia in the quarter-finals.
"They [Germany] probably would have done it with Neymar playing. I don't think there's any reason for us to suppose that with Neymar it would have been different," he said.
Sc olari said the "very high quality" of Germany was the reason for Brazil's disappointing elimination at the home tournament.
"They took advantage of their chances, they are very good," he said.
Read also: 'The worst day of my life' — Brazil coach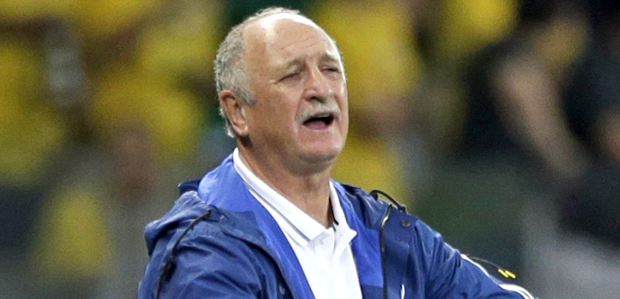 Scholari says he shoulders the blame for Brazil's 'worst loss'. Photo / AP
Just like their parents and grandparents, this generation of Brazilians now has a football trauma of its own to haunt them.
In 1950, when Brazil last hosted the World Cup, Alcides Ghigghia scored the cup-winning goal for Uruguay in the final against the hosts, leaving a mark on Brazil's psyche as deep and painful as a branding iron.
There were five heart-breakers this time: Thomas Muller, Toni Kroos and Andre Schuerrle, who got two each, Sami Khedira and Miroslav Klose. Klose's goal added insult to injury by taking his career World Cup total to 16, leaving him alone with the record that previously belonged to a Brazilian, Ronaldo.
When the final whistle blew, not a moment too soon, delivering its score that read like the bill on a cash register, the record book had been shredded. This made losing 3-0 to France in the 1998 final — Brazil's previous worst defeat (measured by goals, not pain) in the Cup — feel like a mosquito bite in comparison.
Brazil had never let in so many goals in a World Cup game or so many in a half. It was the worst defeat for a host country and was as bad a loss as Brazil have ever suffered in any tournament or any game. It equalled the margin of their previous worst defeat — a 6-0 loss to Uruguay in 1920.
"It was one after the other," said Scolari. "I think everyone like blanked out." As such, it wouldn't be right to draw too many conclusions. This game has to be viewed as an anomaly, not as a definitive verdict on Scolari and his players. Many of them are young enough to be able to look ahead to the next World Cup in 2018.
Photos: Crushing defeat — a nation's anguish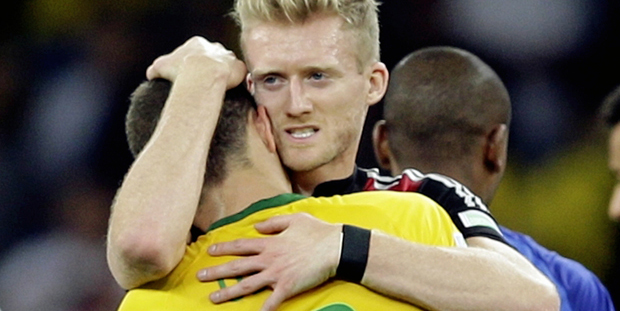 Brazil's Oscar hugged by a sympathetic Schuerrle from Germany. Photo / AP
Still, this is Brazil's worst national team at a World Cup for decades. A scratchy 2-1 victory over Colombia in the quarter-finals and a narrow penalty shootout win over Chile before that exposed Brazil's limitations.
And Germany exploited those limitations ruthlessly.
Loew spotted vulnerabilities in the Brazil defence and that they leave open spaces at the back when they attack. The absence of Thiago Silva, Brazil's defensive rock and captain suspended for this game because he collected two yellow cards earlier in the tournament, will be mentioned among the reasons for the loss. But even that doesn't really explain it.
And take out Neymar, as Colombian defender Juan Camilo Zuniga did with his knee, breaking a bone in the striker's back, and you're left with a Brazil team with more gums than teeth. But even with Neymar, Brazil couldn't have scored as many goals as the Germans. They have a team. Brazil didn't.
Oscar's goal at the end of the match took Brazil's tournament total to 11. That works out as one goal for every billion dollars the nation has spent on this World Cup, on stadiums and related infrastructure. Even if the team score a few more in the match for third place on Sunday, that is still a very poor return.
In the stadium, the mood soured. The crowd chanted unprintable insults aimed at President Dilma Rousseff. The ramifications of this defeat will be political, too.
And it could yet get worse. Brazil's bitterest rival, Argentina, could advance to Monday's final if they beat the Netherlands in the other semifinal this morning.
And if Argentina win the cup, Brazil's torture will be complete.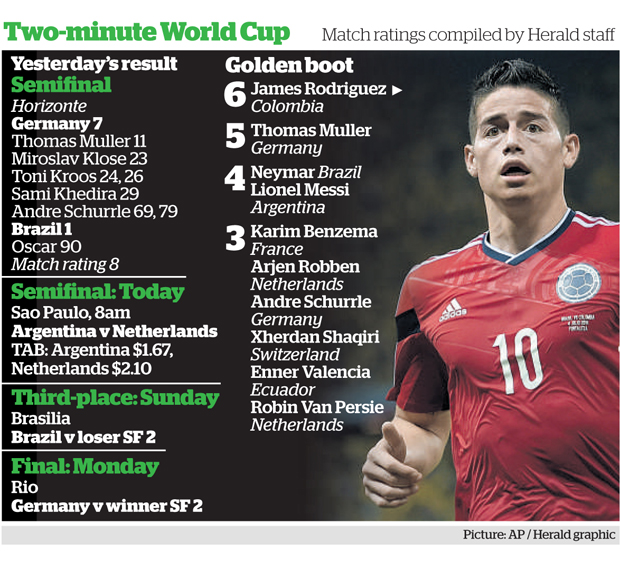 Numbers
Most semifinal goals
• 7 – Germany (7-1 v Brazil, 2014)
• 6 – Argentina (6-1 v United States, 1930)
• 6 – Uruguay (6-1 v Yugoslavia, 1930)
• 6 – West Germany (6-1 v Austria, 1954)
• 5 – Hungary (5-1 v Sweden, 1938)
• 5 – Brazil (5-2 v France, 1958)
Margin of victory
• 6 – Germany 7 Brazil 1 (2014 at Brazil)
• 5 – Argentina 6 United States 1 (1930 at Uruguay)
• 5 – Uruguay 6 Yugoslavia 1 (1930 at Uruguay)
• 5 – West Germany 6 Austria 1 (1954 at Switzerland)
• 4 – Hungary 5 Sweden 1 (1938 at France)
*Note: Semifinals were not held in the 1950, 1974 and 1978 World Cups.

- AP