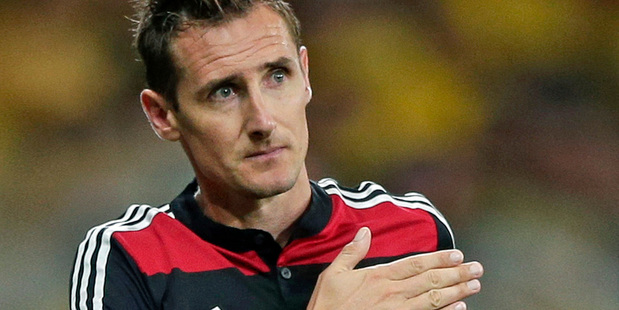 Miroslav Klose found perhaps the only way to make matters worse for Brazil. On a night when Germany routed the host nation 7-1 in the World Cup semifinals, Klose also became the tournament's all-time record scorer — surpassing Brazil great Ronaldo.
Klose scored Germany's second goal in the 23rd minute, giving him 16 career World Cup goals. It broke the mark of 15 goals he shared with the retired Ronaldo, who worked the game as a TV commentator.
Klose scored after a corner by Toni Kroos. His first effort was parried by Brazil goalkeeper Julio Cesar, but Klose calmly hit the rebound home.
The 36-year-old Lazio striker, playing at his fourth World Cup, also scored in Germany's 2-2 draw with Ghana in the group stage when he came off the bench to get Germany back into the contest.
Video: Brazil humiliated by Germany
Given the occasion in Belo Horizonte, a special celebration was surely in the works. But Klose refrained even from doing his trademark back flip to mark the goal, which came in his 23rd World Cup match.
"I got hit in my left foot while attempting a shot and I was not able to do the flip," Klose said.
While Klose played down the record and attributed his scoring record to Germany's teamwork and strong set piece, coach Joachim Loew praised the veteran striker.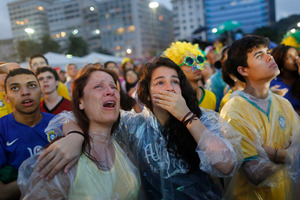 "Miro is incredible. To set the record and to do it in Brazil is a great performance," Loew said. "It really means a lot to all of us. This is a record. This is a record that could be beaten only by [Thomas] Muller.
Photos: Sad faces of Brazil's defeat
"We believe that he really deserves it. Because at his age, he is still playing at the highest possible level."
Muller scored the opening goal against Brazil and now has 10 goals in two World Cup tournaments.
Klose began the Cup on the bench but Loew has returned to the one-striker formation and it is paying off.
With 70 goals in 134 matches, Poland-born Klose is Germany's all-time top scorer, having beaten the record held by Gerd Muller.
He was the top scorer and Golden Boot at the 2006 World Cup with five goals. Klose also scored five goals in the 2002 Cup and four in 2010.

Numbers
• 16 World Cup goals to Klose
• 15 goal record held by Ronaldo
• 23rd World Cup match by Klose
• 70 goals for Germany

- AP