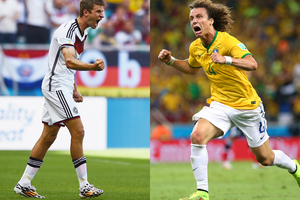 Brazil and Germany collide in a heavyweight clash of continental superpowers as the World Cup semi-finals get under way this morning.
The prize for the winner is a place in the final where they will meet either Argentina or the Netherlands, who face off in another South America-Europe semi-final duel on Wednesday (Thursday AEST).
Brazil face Germany missing star striker Neymar and captain Thiago Silva after an appeal to FIFA to rescind his suspension fell on deaf ears on Monday.
Two hundred million Brazilians may not agree with him but German coach Joachim Loew suggests this twin misfortune may help rather than hinder the hosts.
"Setbacks often set free additional forces," Loew said.
"Nobody should believe that our task is made easier by the loss of Neymar, quite the opposite.
"And Thiago Silva's suspension shows the depth of the Selecao's squad.
"(Brazil coach Luiz) Felipe Scolari can now use a player like (Bayern Munich centre-back) Dante, so I can't see there being a loss of quality."
Scolari has urged Brazil to use Neymar's injury blow as motivation to reach the title.
"I think the additional motivation we must have in every match is going up another step and getting closer to our objective of the final," Scolari said.
"The way Neymar spoke to the players made them understand that he had done his share and now we need to do our share.
"Myself, the other players, all the Brazilian people. This match is very important, it could take us to the final.
"We are playing for our country, it is everything we imagined and dreamed of, and also for Neymar."
Silva's captain's armband will be worn by Paris Saint-Germain's 50 million (A$91.97 million) new acquisition, David Luiz.
The former Chelsea defender and his colleagues, who have the hopes of an expectant nation resting heavily on their shoulders, or Germany will have to wait 24 hours to discover the identity of the team they'll meet in Sunday's (Monday AEST) climax at the Maracana.
Curiously, the two countries' paths have only crossed once before at a World Cup - in the 2002 final with Brazil prevailing 2-0.
The second semi-final sees the Dutch facing Lionel Messi's Argentina in Sao Paulo - a repeat of the 1978 final won by the Argentines 3-1 in extra time.
Like Brazil, Argentina go into battle with sizeable personnel problems of their own.
While four-time World Footballer of the Year Messi reports for duty, Argentina must contest the semi-final without Angel di Maria.
The Real Madrid forward's absence following injury in the quarter-final win over Belgium is an enormous blow to Alejandro Sabella's team.
On the plus side Argentina say striker Sergio Aguero is fit to return after a leg muscle problem ruled the Manchester City striker out of the last 16 defeat of Switzerland.
Dismissed as 'ordinary' by Belgium coach Marc Wilmots after the quarter-final, Argentina have now won their first five matches at a World Cup finals for the first time.
Sabella has hailed Messi's contribution in Brazil, declaring: "He's the water in the desert. He finds solutions when we think there aren't any."
Messi is about to find out whether he is up to solving the complex riddle posed by master tactician Louis van Gaal's high flying Dutch side.
-AAP