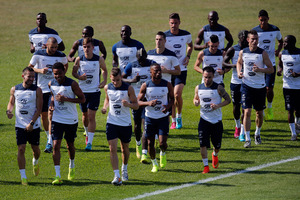 An illegal ticketing scandal involving a member of FIFA has rocked the World Cup as Germany and France gear up for a titanic quarter-final showdown.
Police probing an international scalping syndicate said thousands of illegally sold tickets worth millions of dollars were believed to have originated from the FIFA individual.
The unnamed foreign national was staying at the luxury Copacabana Palace hotel, an official FIFA hotel during the World Cup, police commissioner Fabio Barucke said.
The individual is thought to have funnelled tickets to the black market with an intermediary in Match Hospitality, the official World Cup ticket agency, Barucke said.
Police made 11 arrests on Wednesday of people accused of selling tickets that may have been obtained through a contact at world football's governing body.
Barucke explained the police investigation, dubbed "Operation Jules Rimet" after the former French FIFA president, had been undertaken in secret without contacting FIFA.
However, following the arrests "we are now calling for FIFA's assistance to help us identify this FIFA person, a foreigner staying in the Copacabana Palace hotel," Barucke said.
A French-Algerian suspect, Mohamadou Lamine Fofana, was initially thought to be responsible for the scam, Barucke said.
"But after his arrest we realised there was someone above him from FIFA with an intermediary at Match Hospitality," the police official said.
"We want to identify the last link in the chain, from the ticket touts at the stadiums, right through to those who are above Lamine Fofona and who passed the tickets on to him."
As many as 1,000 tickets for each of the World Cup's 64 matches may be involved in the scam, which is believed to have taken place at the past three World Cups.
The touting gang could have pocketed up to US$95 million (A$102.79 million) per tournament, according to Brazil's O Dia daily.
The developments broke as France and Germany preparing to resume their fierce rivalry in tomorrow's quarter-finals.
Germany's preparations suffered a scare overngiht after it emerged seven players had been affected by illness.
"Seven players have somehow got light flu-like symptoms," Loew told German ARD radio, with the majority of those affected suffering from "sore throats".
"I hope they will all be okay."
Friday's match gives France the chance to avenge semi-final defeats to Germany in the 1986 and 1982 World Cups.
The victor will face either hosts Brazil or Colombia, who clash in Saturday's second quarter-final in Fortaleza.
The last eight drama continues Sunday with Argentina facing Belgium and the Netherlands up against minnows Costa Rica.
In tomorrow's other quarter-final, talismanic striker Neymar and company will have 200 million Brazilian hearts fluttering again as they embark on the latest step of a journey they pray will lead to a sixth world title.
Brazi's mental resilience has been called into question this week after several players cried during the penalty shoot-out victory over Chile last week.
Captain Thiago Silva insisted however the squad were capable of coping with the pressure.
"I think we are good psychologically. We are doing what we love to do," the Paris Saint-Germain defender said.
- AFP